Ambulance 12.1 Inch Patient Monitor Multi-parameter Patient Monitor
Basic information:
| | |
| --- | --- |
| 6 parameters | ECG,HR/PR,SPO2,NIBP,RESP, TEMP |
| Size | 12.1 inch portable ICU monitor |
| Weight | 3.1kg(with lithium battery) |
| Voltage | 220v |
| Power | 40w |
| Leads | 3-5 leads |
| Suitable places | Bedside care ward, ICU, CCU, operating theaters, emergency centers, family care and the like. |
| Optional | ETCO2 module; Build-in thermal printer; lithium battery; mobile stand/ wall mount |
| SFDA classification | Class II |
| Working system | Continuous running equipment |
Features:
new high-precision modules, new digital oxygen technology
12" color TFT display, up to 12 waveforms
Arrhythmia analysis, ST calculation, Pace analysis
Various interfaces: A single guide, standard, large font, all leads
Anti-ESU, anti- defibrillator
Patient info input management function
Multi-lead ECG waveforms display in phase
1-7 level audio/visual alarming
Large volume of tabular and graphic trends information storage and easy to recall
Suitable for adult, pediatric and neonatal patient
Built-in recorder and battery

Standard configuration:
FD-9000GTA patient multi parameter monitor×1 set,
Rechargeable lithium battery×1 pcs,
standard 5-leads ECG conductance joint connecting cables×1 set,
standard adult blood pressure cuffs×1 set,
adult SPO2 probe×1 set,
TEMP probe×1 set,
power plug line×1 set,
grounding wire×1 set,
English operation manual×1 set.
Three certificates×1 set.
Optional:
EtCO2 module; Build-in rechargeable lithium battery; build-in thermal printer; monitor mobile stand/ wall mount
Technical parameters
ECG

le

ad mode;I,II,III,AVR,AVL,AVF,V1-6
Gain: ×0.25, × 0. 5, and × 1, × 2
Frequency: 0.5 Hz - 100 Hz
Common-mode signal inhibition: More than 70 dB
Scan rate: 12.5 mm / S, 25 mm / S, 50 mm / S standard three stalls.
HR: ± 5 BPM
Precision calibration signal: 1mv(peak, ± 3% accuracy)
ST Detection: measurement range (-2.0mV----+2.0mV)
Using Standard: meet the ANSI / AMI EC13 -2002 standard
Response time: 1s
Alarm: Sound and Light
Preset heart rate range: (Alarm over preset numerical)
Ceiling: 1-255 bpm adjustable
Threshold: 0-254 bpm adjustable
NIBP
Technology: Oscillography
Mode: manual / automatic
Measurement units: mmHg / kPa
Scope: Pressure Cuffs 0-250 mmHg
Inflatable cuffs: 180 mmHg (120mmHg for children, 70mmHg for newborn)
Inflatable cuffs follow: original SBP: + 30 mmHg
Measuring range: SYS: 60-250 mmHg
DIA: 40-220 mmHg
MEAN: 45-235 mmHg
Response time: 1s
Alarm: Sound and Light
Preset range: report (Numerical exceed preset alarm)
SYS: maximum: 1-255 mmHg adjustable
Threshold: 0-254 mmHg adjustable
DIA: ceiling: 1 -255 mmHg adjustable
Minimum standards: 0-254mmHg adjustable
SPO2
Range: 0-100%
Accuracy: 1%
Resolution: 1%
Pulse frequency: 20-250 times / min
Response time: 1s
Alarm: Sound and Light
Preset range: (report Alarm over preset numerical)
Ceiling: 1% - 100% adjustable
Threshold: 0% - 99% adjustable
TEMP
Technology: thermostat temperature probe
Measuring range: 20 ° C-45 ° C
Temperature resolution: 0.1%
Accuracy: ± 0.1 ° C
Response Time: 1s
Alarm: Sound and Light
Preset range: report (numerical preset alarm over)
Maximum: 20.1 ° C-45.5 ° C adjustable
Threshold: 20 ° C-45.4 ° C Adjustable
RESP
Breathing frequency range: 0-60 bum
Accuracy: ± 1rpm
Response time: 1s
Gains options: × 1, × 2, × 0.5, and × 0.25 four trenches
Alarm: Sound and Light
Alarm range: (numerical preset alarm over)
Ceiling: 10-100 bpm adjustable
Threshold: 0 -99 bpm adjustable
Printer(Optional)

Specification: Dual channel thermal array data recorder
Print mode: Real time or event triggered record waveform and text
Accuracy: horizontal: 4oodpi vertical: 800dpi
Annotation: Date/ time(24 hours)
Optional wall bracket, mobile stand, visits backpack.
System
Screen:12.1 inches TFT screen of LCD
Battery: sealed maintenance-free lithium battery
Safety standard: lec601-1(GB9706.1)
Product Pictures: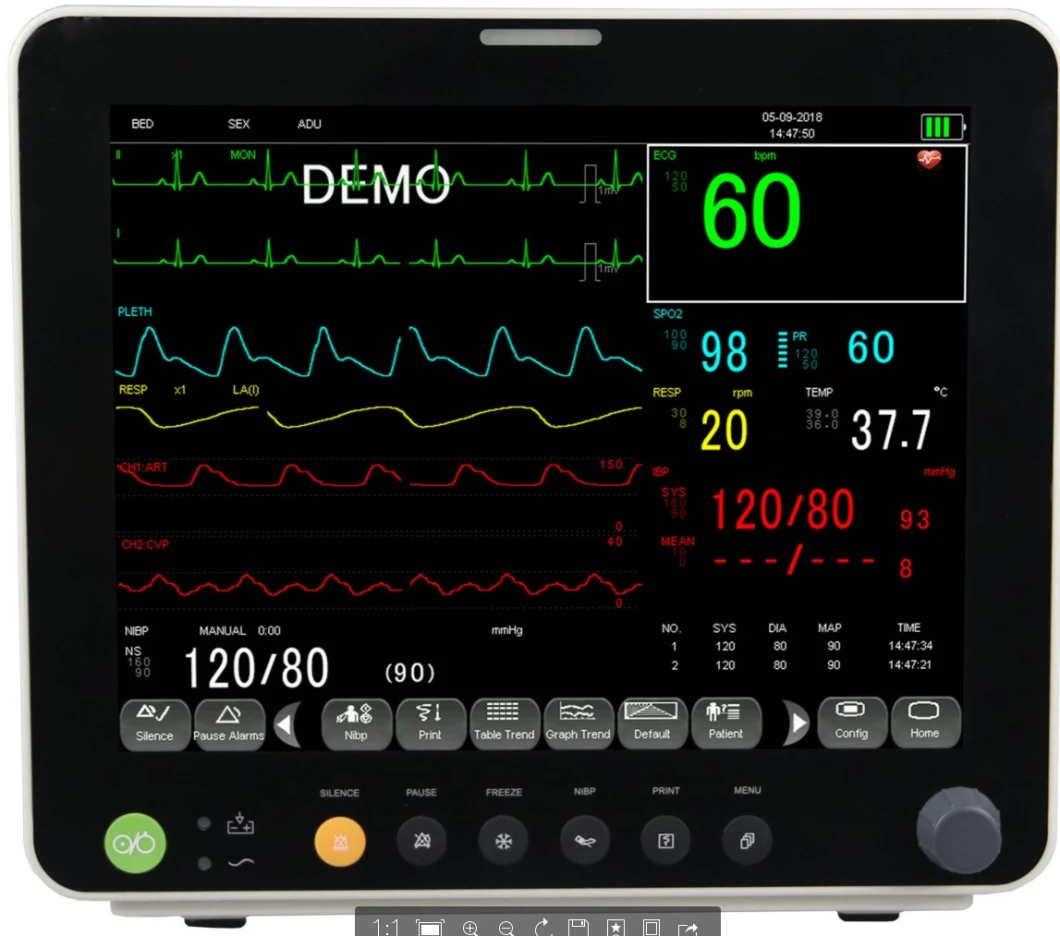 Contact Information: