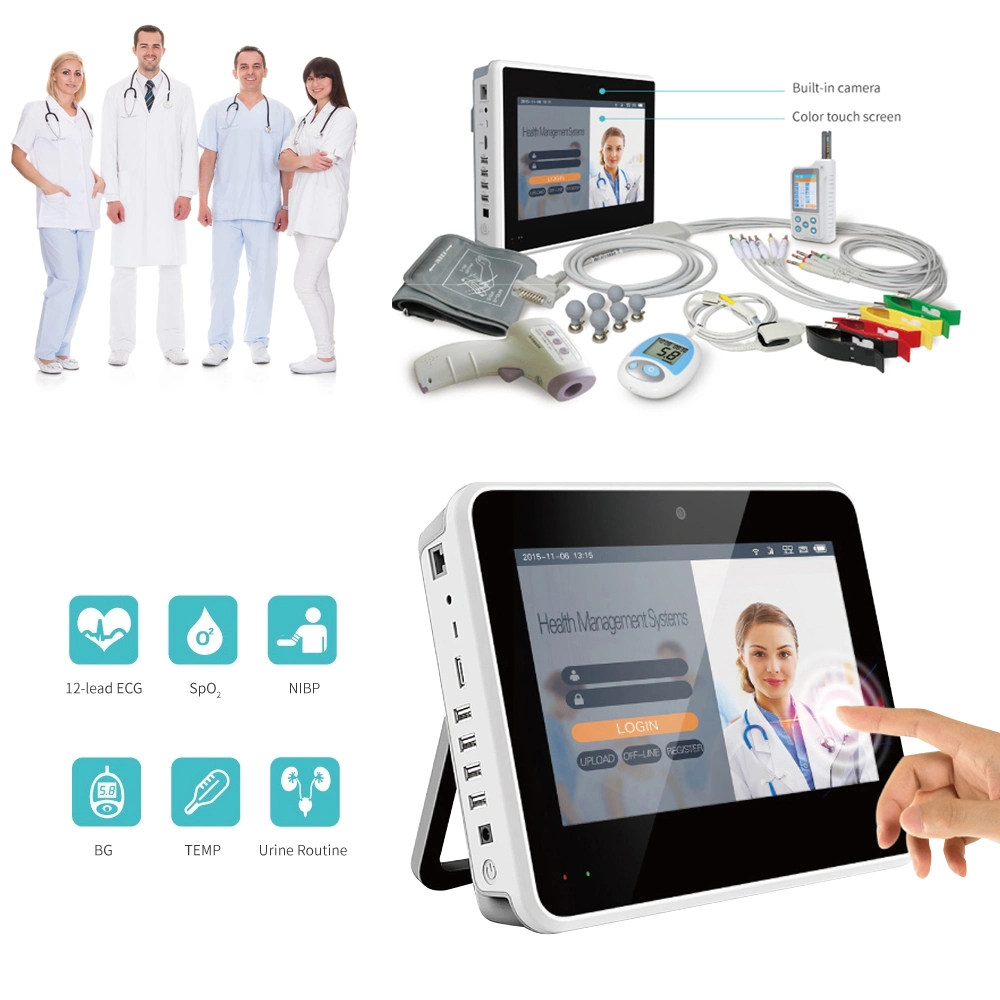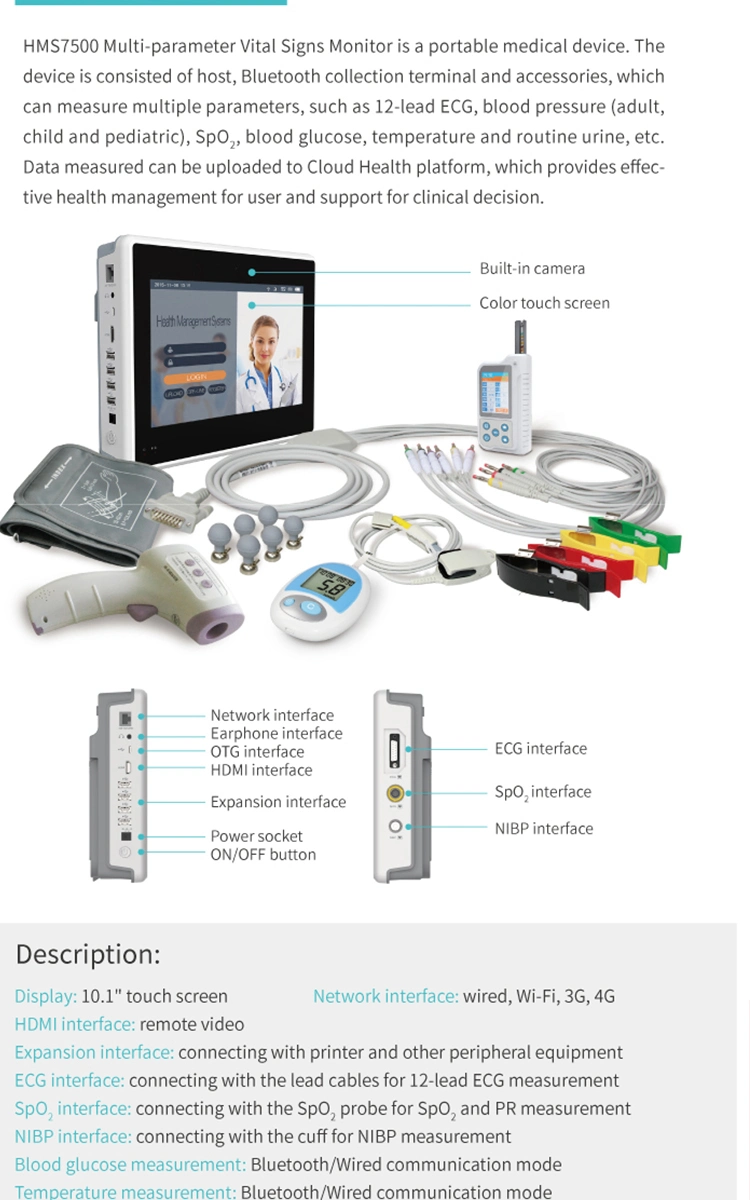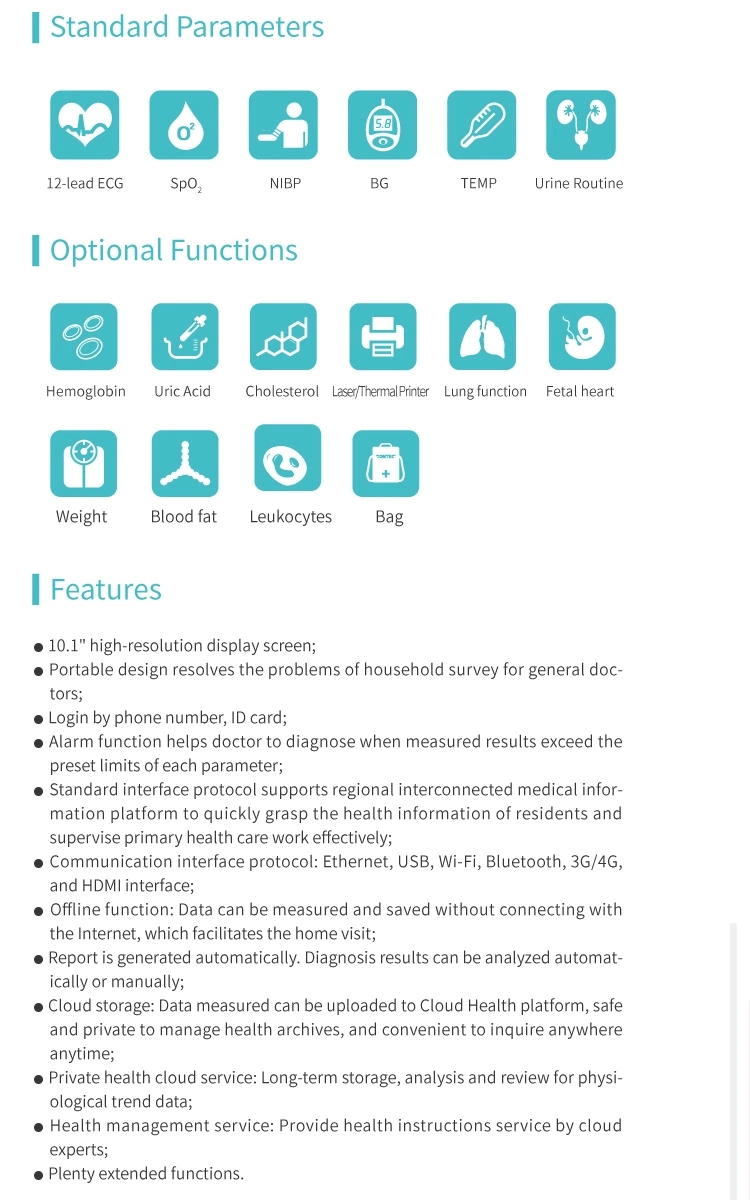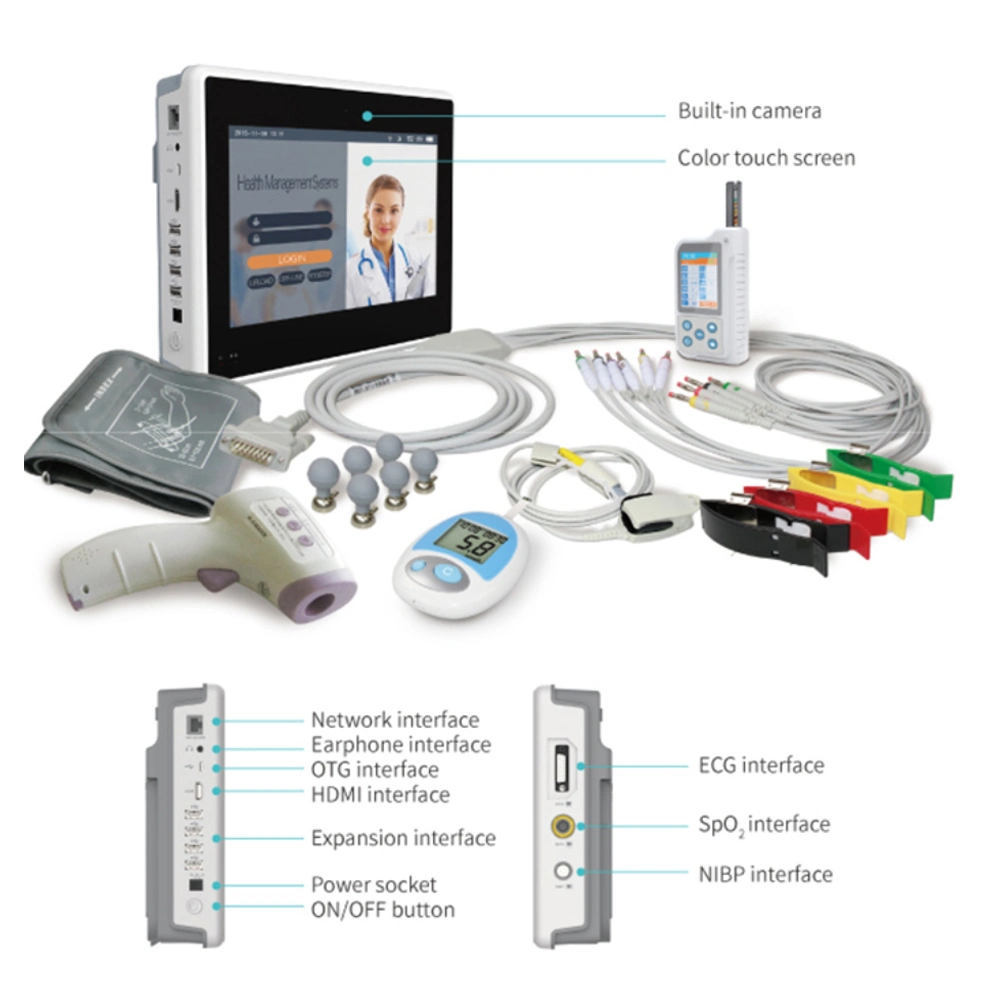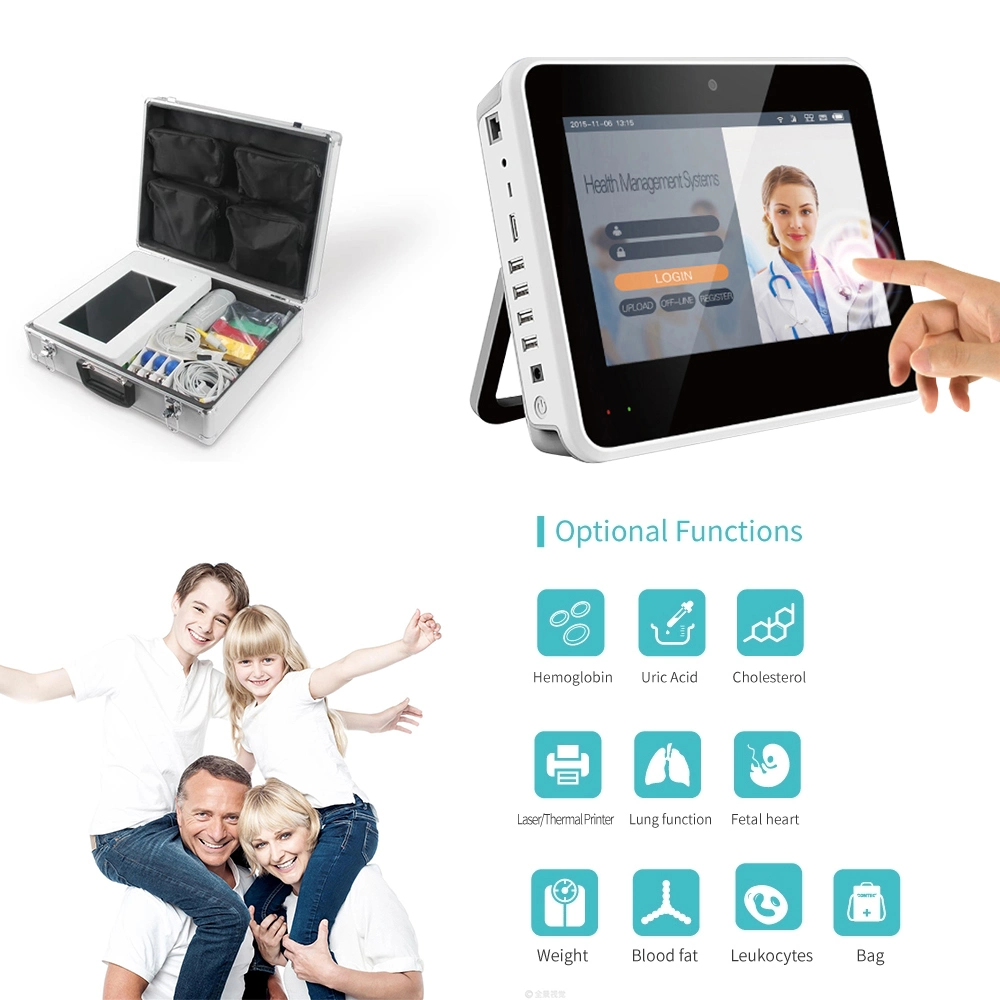 Phone number, health card
7)Network mode
Wired, Wi-Fi, 3G
8)Registration
Register by the phone number.
9)*Cloud storage
Data measured can be uploaded to Cloud Health platform, safe and private to manage health archives, convenient to inquire anywhere anytime.
10)*Private health cloud service
Long-term storage, analysis and review for physiological trend data
11)*Health management service
Provide health instruction and consultation service by cloud experts.

Note: the contents marked with "*" are provided by cloud terminal.



Performance
1)ECG(12-lead)
Lead: I, II, III, aVR, aVL, aVF, V1, V2, V3, V4, V5, V6
Waveform: 12-channel
HR range: 15~300bpm
Accuracy: ±1% or ±1bpm, whichever is greater
Resolution: 1bpm
Frequency response:
Method A: bandwidth 0.67Hz~40Hz, 0.67Hz~40Hz(diagnosis mode), (-3dB)upper limit: 110%(be equivalent to the output of inputting 5Hz sine wave)
Method B: 11.25~15mm
Calibrating voltage: 1mV±5%
Sensitivity: auto, 5mm/mV, 10mm/mV, 20mm/mV
Paper speed: 5mm/s, 10mm/s, 12.5mm/s, 25mm/s, 50mm/s
Time constant: ≥3.2s
Noise: ≤30μV(p-v)
CMRR: ≥90dB, ≥105dB(filtering mode)
Baseline control and stability: baseline drift rate should be less than 10μV/s, drift with temperature changing should be less than 50μV/°C.
With the following functions: standard 12-lead, sync collection for 12-lead, sync recording, automatically providing test results, forewarning for abnormal ECG, lead-off alarm and remote transmission.
2)NIBP
Measure Method: Oscillometry
Working mode: single auto measurement
Measurement range:
Adult:
Systolic pressure: 30~270mmHg
Diastolic pressure: 10~220mmHg
Mean pressure: 20~235 mmHg
Resolution: 1 mmHg
Over-pressure protection:
Adult: 297±3 mmHg
Miximum mean deviation: ≤±5mmHg
Maximum standard deviation: ≤8mmHg
3)SpO2
Measurement range: 0%~100%
Resolution: 1%
Accuracy: 70%~100%, ±2%
Measurement mode: fingertip
4)TEMP
Measurement range: 34ºC~43ºC
Accuracy: ±0.2ºC
Resolution: 0.1ºC
5)Blood glucose
Sample: capillary whole blood
Measurement range: 1.1~33.3mmol/L
Accuracy deviation: ≤4.2mmol/L, ≤±0.83 mmol/L
>4.2mmol/L, ≤±20%
Calibration curve: automatically select test curve by the correction code
Data transmission: test results can be transmitted
Test time: 10s
6)Routine urine
Test items: GLU, BIL, SG, PH, KET, BLD, PRO, URO, NIT, LEU, VC.
Test speed: ≥ 60 samples/hour
Repeatability: CV≤1%
Stability: CV≤1%
Test result: it is semi-quantitative or quantitative data, normal reference value can be provided.
Power On Self Test(POST): POST function, recognize and report the error, store and recall the test data after power failure
Data transmission: test results can be transmitted



Physical characteristic
Dimension: 435mm(L) × 335mm(W) × 125mm(H)
Weight: about 6kg



Package included

1XHMS7500 Multi-parameter Vital Signs Monitor
1 SetXECG lead cable, suction ball, limb clamp
1 XSpO2 probe
1XCuff for adult(22~32cm), NIBP extension tube
1XInfrared Body Thermometer
1X Blood glucose meter, USB cable, test strip(including lancet)
1XUrine Analyzer, test strip, power adapter(5V), USB cable
1X Power cord
1X Power adapter(9V)
1XUser Manual



Optional configuration
Lung function, fetal heart, hemoglobin, uric acid, cholesterol, weight, laser printer, Bluetooth printer.