F4 portable ICU CCU Ambulance patient monitor
Product Description:
DP-F4 patient monitor is easy to carry, with 800*600, 8inch color TFT-LCD screen, size of main unit is 175*210mm, thickness is 80mm, weight of main unit with battery is 1.35KG. Packing carton of each unit is 13*38*27CM,weight of patient monitor with accessories and packing material is 2.6KG.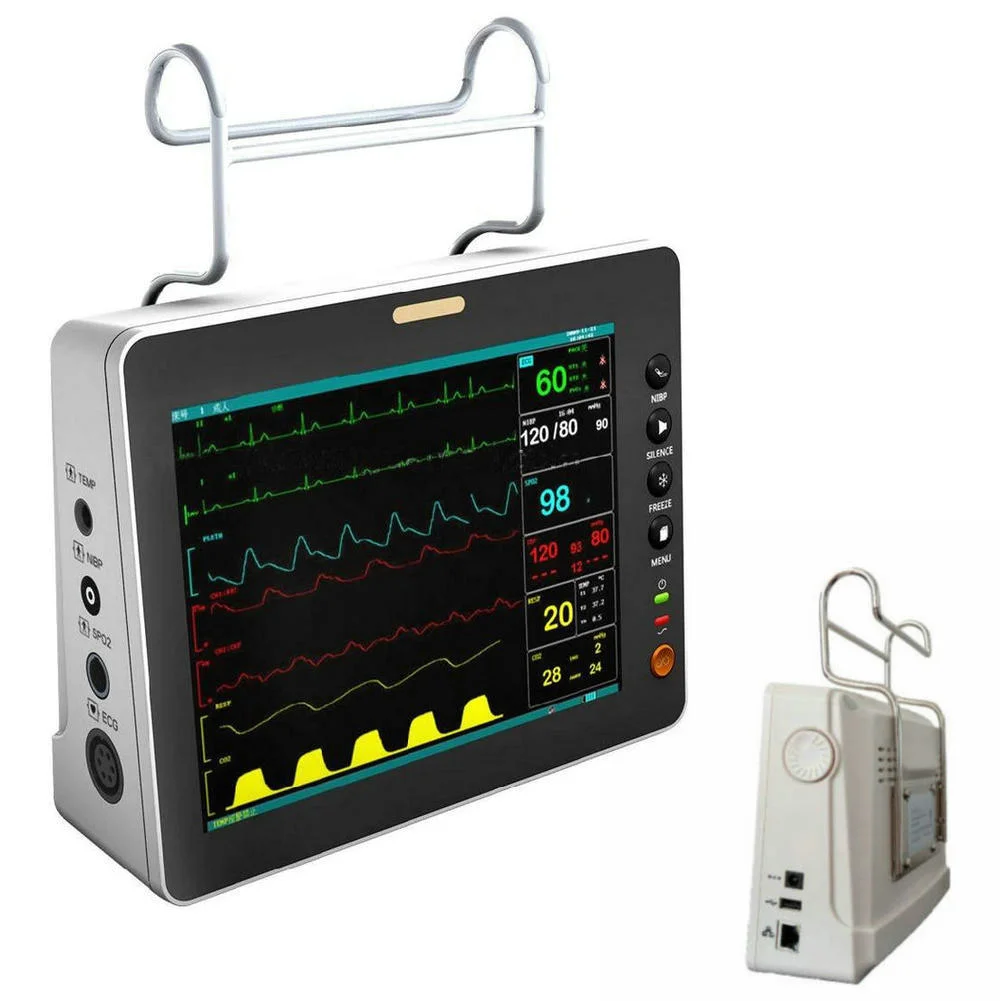 Product Features:
1.Waterproof design appearance, low power consumption, without air fan and silence, battery working time is at least 5.5hours,recharge time is2.5hours.Suitable for medical field rescue, ambulance, move and transit;
2.Display mode of big font, trend review, ECG 7 lead, support one key operation, touchable screen is optional. Suitable for all working places, can used for neonate, child, adult and veterinary; support mode of diagnose,monitor and operation;
3.15 type arrhythmic analysis,7-lead ECG waveform display in phase. 15 type drug calculation and titration table;
4. Efficient resistance to interference of defibrillator and electrosurgical cautery, respiration can choose III,meet requirement of operation, ward;
5. Use digital SpO2 technology,can test for 0.1% weak,high accuracy;
6. Anti-ESU,anti-defibrillator,RA-LL impedance respiration,digital filtering;
7. Double over-pressure NIBP protect,temperature drift;
8. Optional functions:Touchable screen, EtCO2, Central Monitoring System.



Performance Specifications:
Model
DP-F4 compact patient monitor
ECG
Input: Whole-lead ECG cable, standard AAMI cable connector;
Lead selection: I,II,III,avR;avL;avF;c(V1,v2,v3,v4,v5,v6);
Gain selection: *1/4,*1/2,*1,*2;
Sweep speed: 12.5,25,50mm/s;
Bandwidth: 0.05-100Hz(for Diagnosis)
0.5-40Hz(for monitor or operation);
Calibration signal: 1mV;
Protection: Against electrosurgical interference and defibrillation.
Heart Rate
Measuring range: 15-300bpm;
Accuracy: ±1bpm;
Resolution: 1bpm;
Alarm mode: Audible and visual alarm
RESP
Method: Resistance on chest;
Measuring Range: 7-120bpm;
Gain Selection: *1/2,*1,*2,*4.
Oxygen Saturation(SPO2)
Measuring range: 0-100%;
Accuracy: ±2%(70-100%)
0-69% unspecified
NIBP
Method: Oscillometric;
Mode: Manual, Auto, STAT;
Measuring interval in AUTO mode: 1-480min;
Measuring interval in STAT mode: 5 min;
Measuring type: SYS,DIA,MEAN;
Measuring Range: SYS:40-270mmHg
DIA:10-215m
MEAN:20-235mmHg;
Resolution: 1mmHg;
Over-pressure protection: Yes.
Temperature
Measure range: 0.1ºC;
Resolution: ±0.1 ºC;
Accurancy: ±0.1ºC.
Operation Environment
Temperature: 0~45ºC;
Humidity: 30~85%(non-condensing);
Oxygen Saturation(SpO2);
Measuring Range: 0-100%;
Accuracy: ±2%(70~100%), 0~69% unspecified;
Power Option;
AC power: 100~240V, 50~60Hz, 10VA.
Detailed images: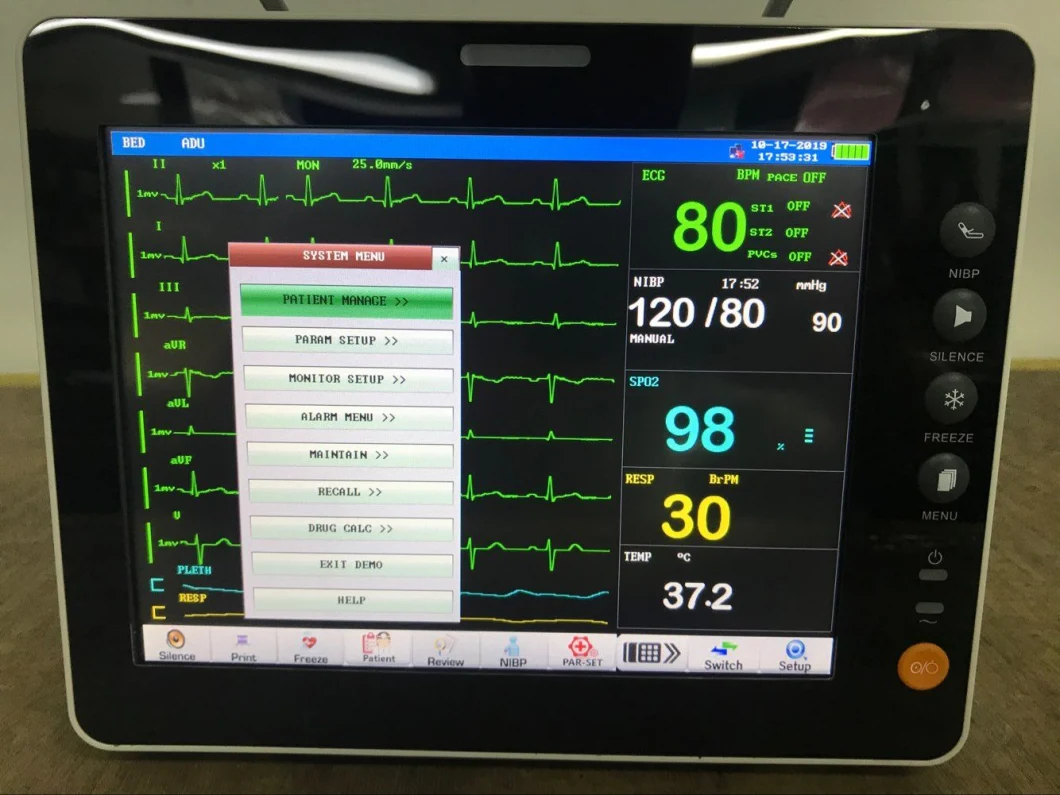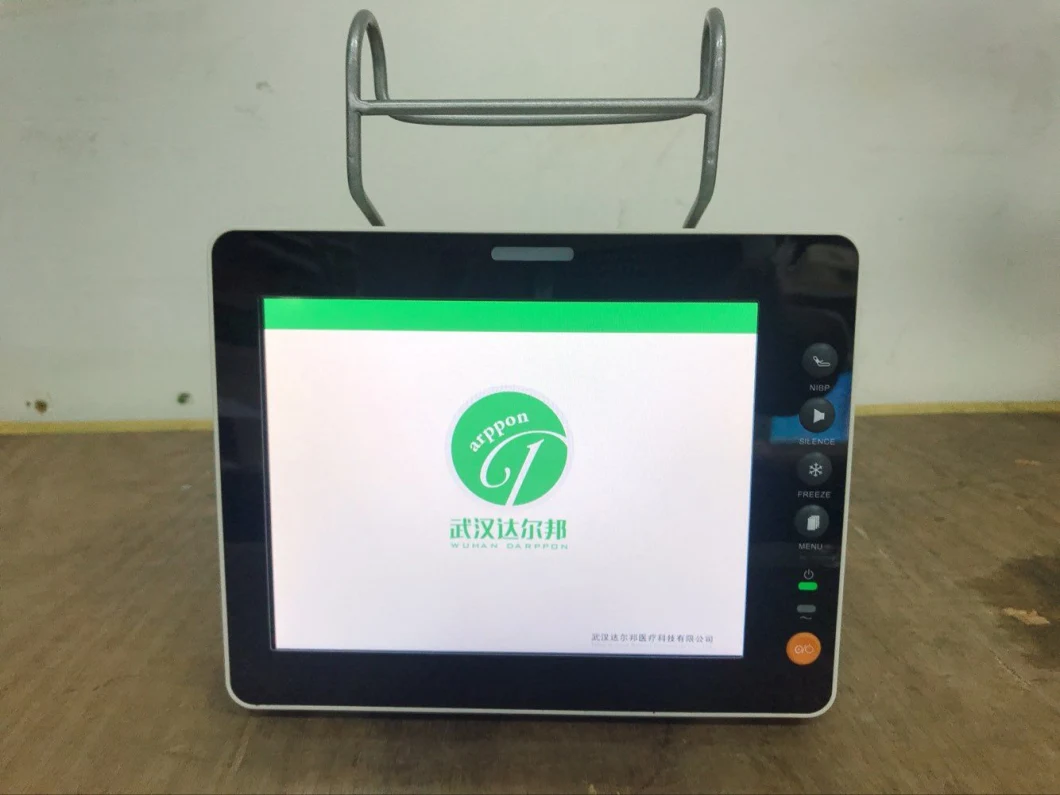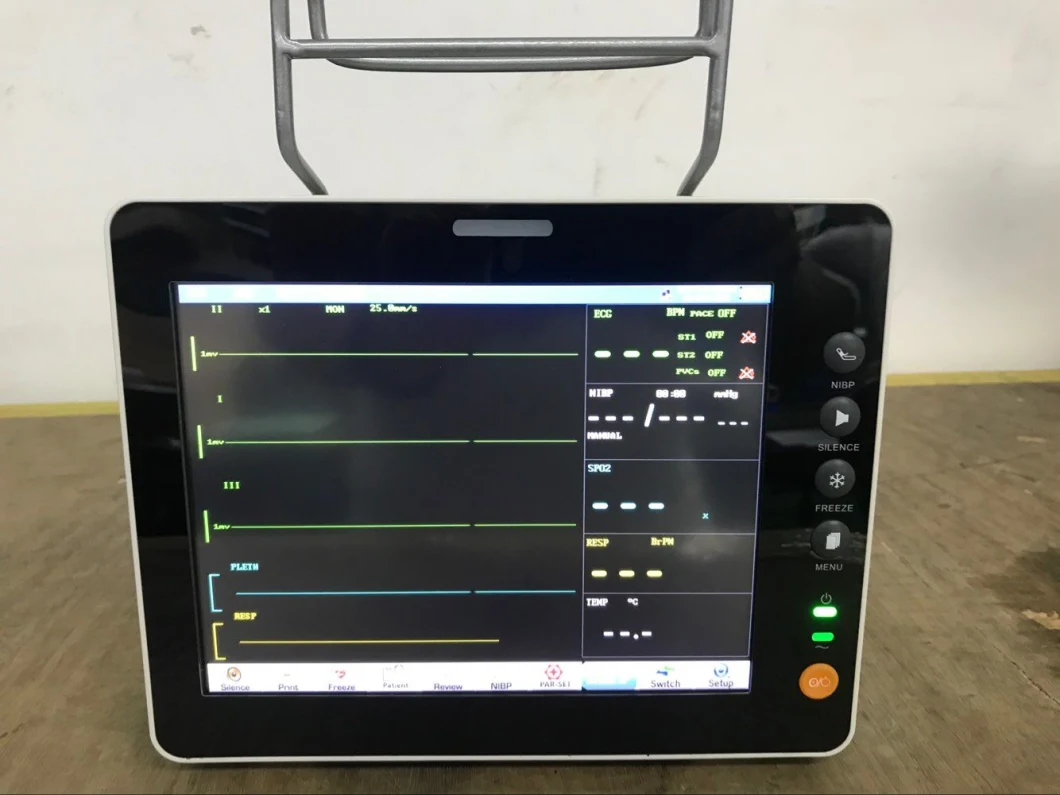 Company information:
Wuhan Darppon Medical Technology CO., LTD, one of the leading medical equipment manufacturers and distributors in China since 2009.
DARPPON engaged in supplying various medical equipments such as Electrosurgical Unit, Patient Monitor, Electrocardiograph, Medical Imaging System, Infusion/Syringe Pump, Defibrillator, Home Care and Veterinary products, etc. All of our products have passed ISO 1234 and CE certificates.
Our cusomers are world wild over 100 countries, welcome to visit our web https://darppon.en.made-in-china.com for more information, we are always there ready to give you best service!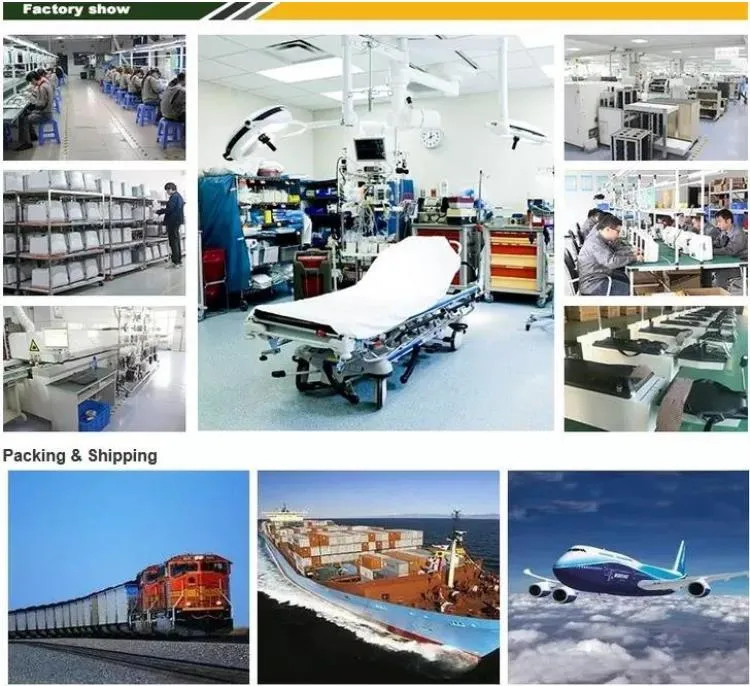 Contact Us: