Patient monitor pulse oximeter monitoring the patient's pulse oxygen saturation and pulse rate
The Pulse Oximeter is
a
non-invasive
device
i
ntended
for the
spot-check
of saturation of arterial hemoglobin(Sp02) and
the puls
e
rate of adult in home
use environments.This device is not intended for continuous monitoring:The device can be
multi-user
.Solely for use with sporting and aviation
activities
.Intended to monitor heart ra
te
during exercise.
2
Overview
The pulse oxygen saturation
is the percentage of
HbO
2
in the to
tal
Hb in the blood,so-
called
the O:concentration in the blood. Lt
is an important
bio-parameter fo
r
the respiration.For
the purpose of measuring the SpO
2
: more easily and accurately. our company developed the Pulse Oximeter.At the
same
time
.the device can measure the pulse rate
simultaneously
.
The Pulse Oximeter features in small
volume
,low power consumption, convenient op
e
ration and being
portabl
e
. It
is
only nece
s
sary
for
user
to put one of
his fingers into a fingertip photoelectric sensor
for diagnosis, and a display screen will
directly show measured
value of Hemoglobin Saturation.
Features
Operation of the product is
simple
and convenient.
The product is small in volume, light in weight (total weight is about 5Ogincluding batteries)and convenient in carrying
Power
consumption of the produ
c
t is low
and the two originally equipped AAA
batteries
can be operated continuously for 24
hours.
The product will
automatically be powered
off
when no signal is
in the product within 5 seconds.
Low-battery indicator as
battery i
c
on flash manner.
Major
Applications and Scope of Applic
a
tion
The Pulse Oximeter can be used
in measuring pulse oxyg
e
n saturation and pulse ra
t
e through finger
.
The
product
is su
i
table
for family
use(
I
t
can be used
before or after doing sports, and
it
is not recommended to use the device
during the process of doing sports).
The problem of overrating would emerge when the user is suffering from toxicosis which caused by carbon monoxide,the device is not
recommended to be used under this
circumstances
.
Environment Requirements
Storage Environment
Temperature:-4OC-+60ºC

R

e

lative hu

m

idity :

≤

95%

Atmospheric pressure :50OhPa~1060hPa
O
perating Environment
Temperature::

10

ºC-4

0

ºC

Relative Humidity:

≤

75%

Atmospheric pressure:7

00

hPa~1060hPa
Specifications of oximeter:
Power
| | |
| --- | --- |
| Internal: | 2 AAA 1.5V akaline batteries |
| Power consumption: | Smaller than 30mA(Normal) |
Power consumption
| | |
| --- | --- |
| Operating Temperature : | 5 ~ 40 centigrade |
| Storage Temperature: | -10 ~ 50 centigrade |
| Relative Humidity: | 15% ~ 80% non-condensing |
Alam default value
Parameters
Value
Hemoglobin saturatin display
35% -100%
Pulse rate display
30 -250 BPM
Resolution
Hemoglobin saturation
1%
Pulse rate
1 BPM
Measure
Accuracy
Hemoglobin saturation
2%(70%-100%) Unspecified(≤ 70%)
Pulse rate
2 BPM
Product pictures: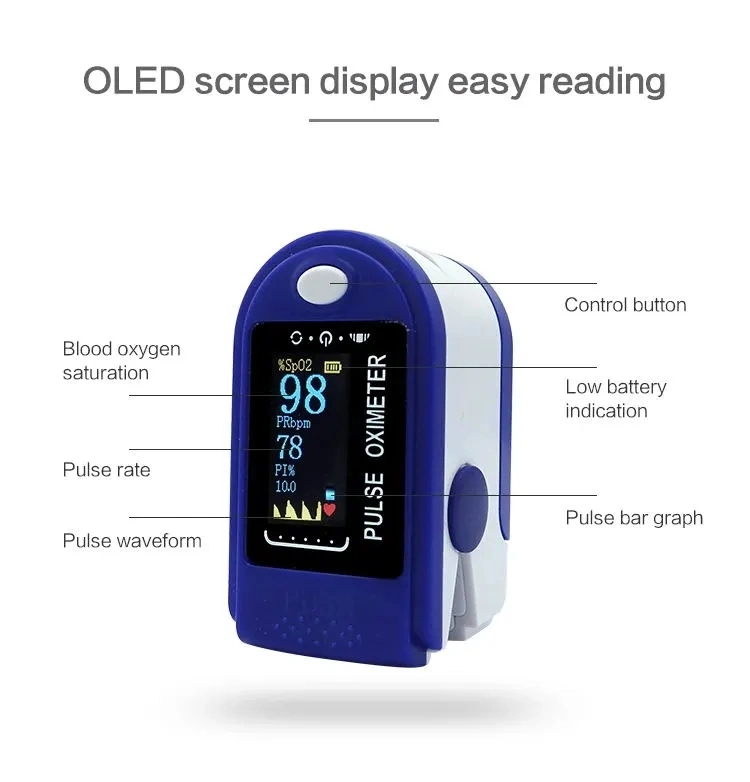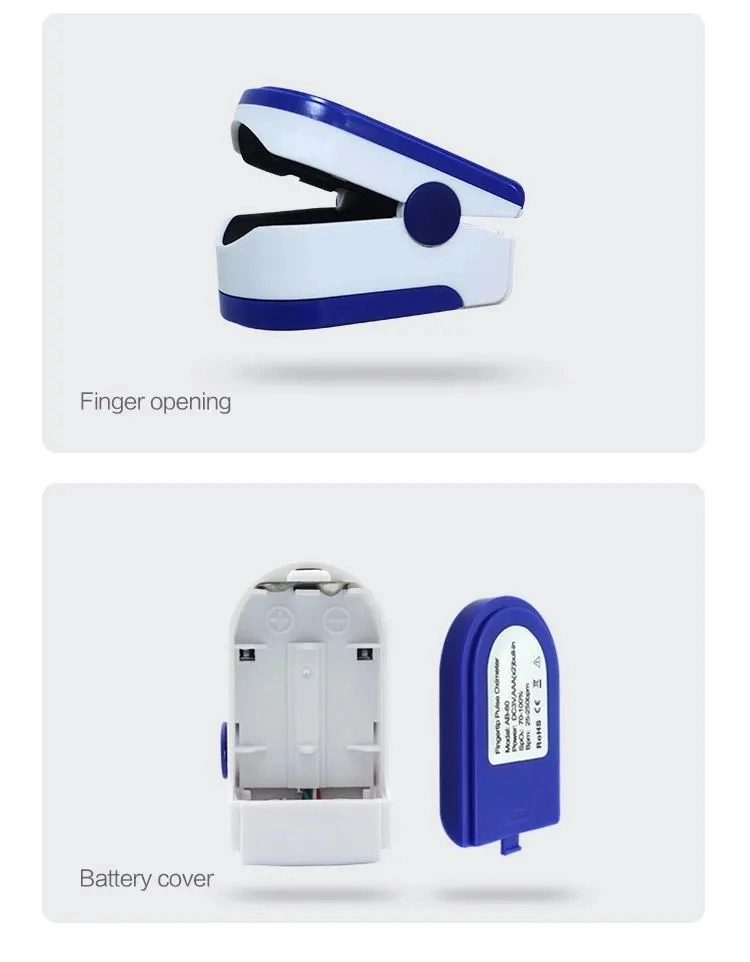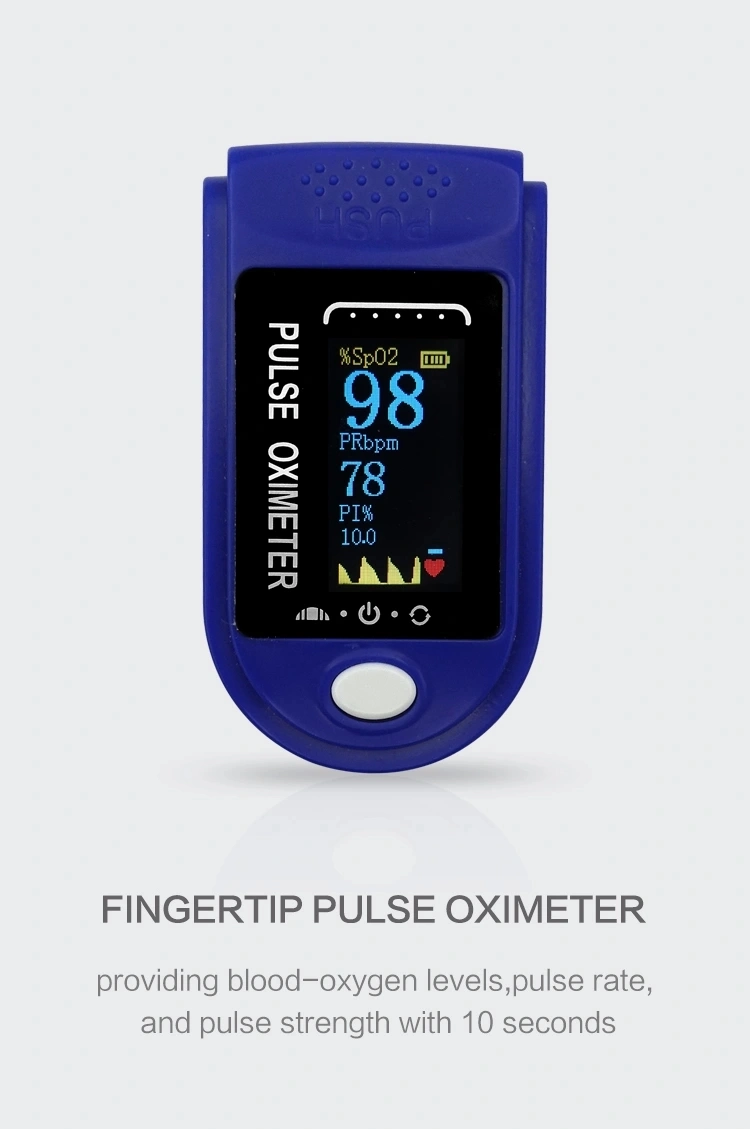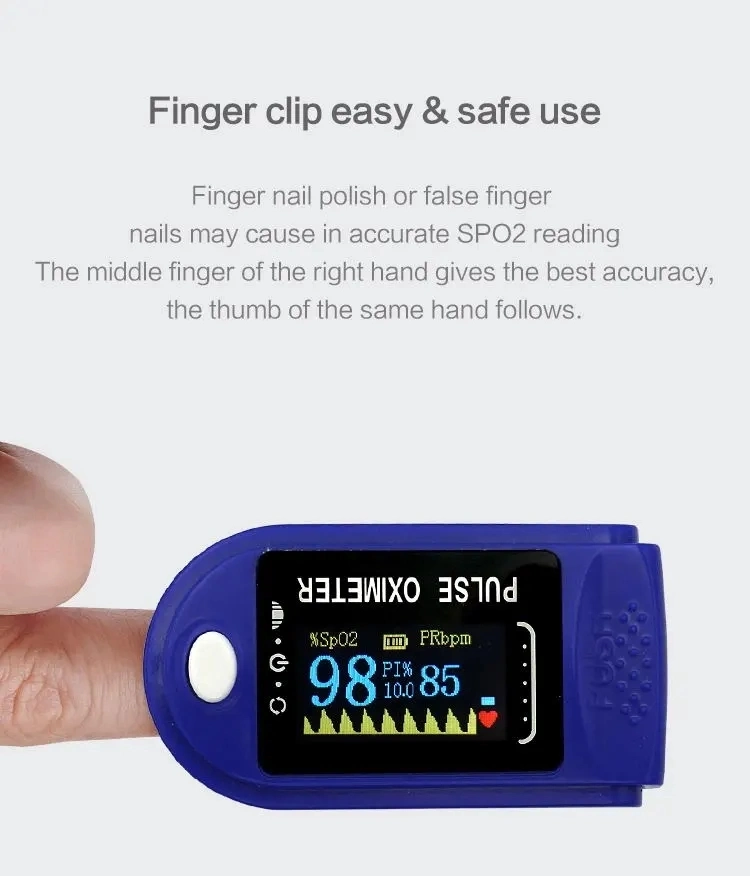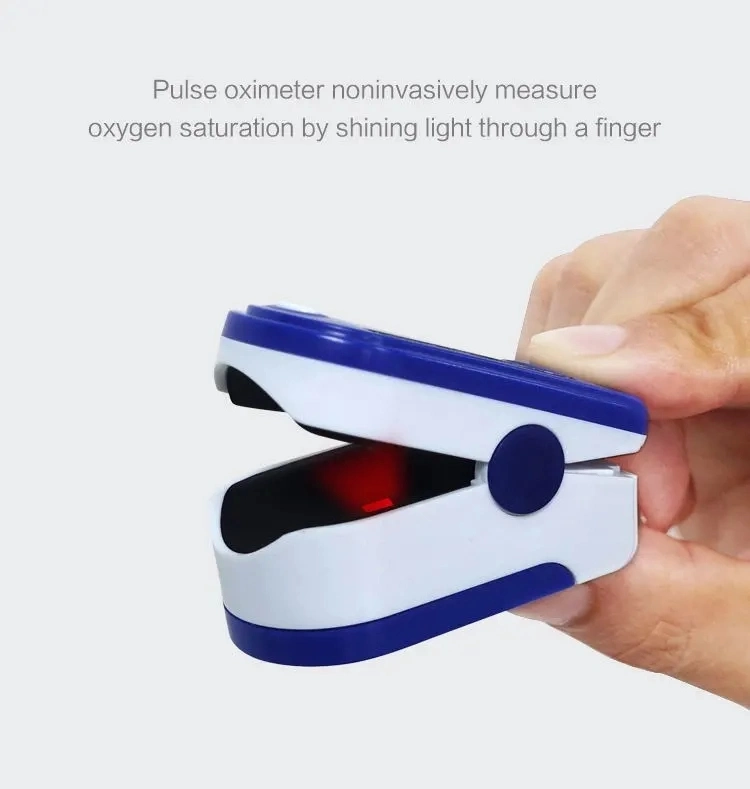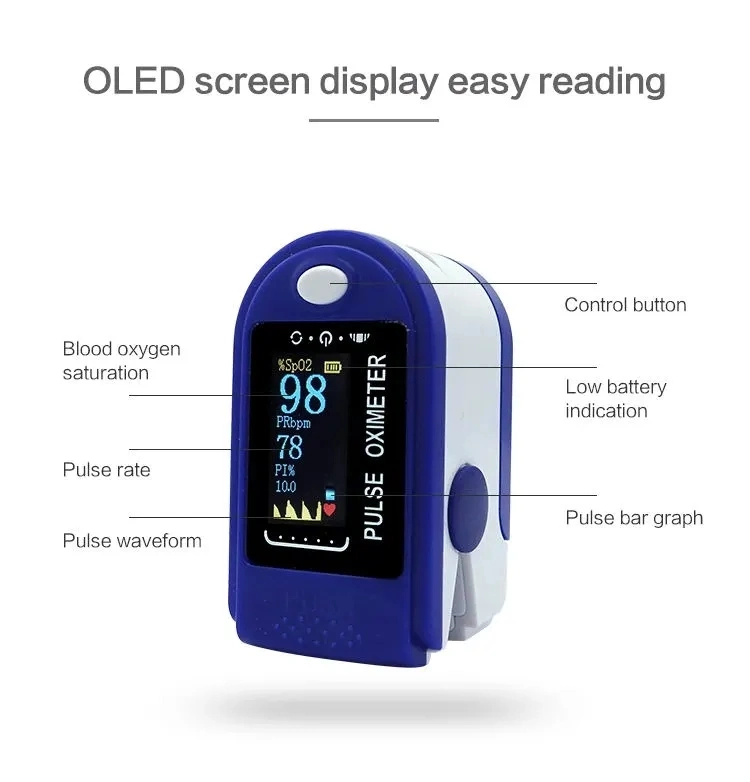 Product Features:
* Lightweight for carring and easy to use.
* Manually adjust the direction of interface.
* Color OLED display simulataneous display for testing value and plethysmogram.
* Low perfusion down to 0.3%
* Visual alarm function, real-time spotchecks.
* Low battery voltage indicator.
* Automatically switch off.
* Standard two AAA 1.5V Alkaline batteries support more than 20 hours continuous work.

Packing and Shipping
1. Single dimension : 88mm (L) x 88mm (W) x 3.8mm (H), Weight: 29g (including 2 AAA akaline batteries)
Outer box: 80mm (L) x 60mm(W) x 52mm (H), gross weight:70g
Outer carton: 460mm(L) x 400mm(W)X375mm(H), gross weight: 15.6 kg
2. We will ship the item within 24 hours after receiving your payment, except weekend and holiday, kindly leave us your shipping address and contact number, both are very important, thank you!
3. Expedited Int'l Shipping (heavy items) to worldwide by FedEx/UPS/DHL(5-10 days), and pls contact us for the shipping rate.If you have any special requirement, please feel free to contact our staff immediately, or leave the note in Paypal after your payment, we will provide you the satisfy shipping.
4. If you haven't received items for 4 weeks, please contact us immediately.
FAQ
Q1. How to get the product?
A1. Kindly send enquiry to us,please.We are here for you.
Q2. How long can I receive the product?
A2.Products in stock, ship within 2 days.
Products manufactured freshly, ship within 7 days.
Q3. How about your supply ability?
A3.Maximum capacity: 20,000 pcs/day for oximeters.
Q4. What is the MOQ(Minimum Order Quantity )?
A4.100 pcs for a trial order is welcomed.
Q5. If your company can custom product as my required and put my logo on?
A5.All of our product are designed and customized as required including color, print, pattern and logo.
Q6.How about the warranty?
A6.Normally offering 24 months warranty.
Q7. How can I pay the order?
A7.Usually we accept T/T,Ali Pay, we chat Pay. If you want to pay by other ways, please contact me.