SYP Multi-Language 12.1 Inches Best Quality Patient Monitoring Cardiac Monitor System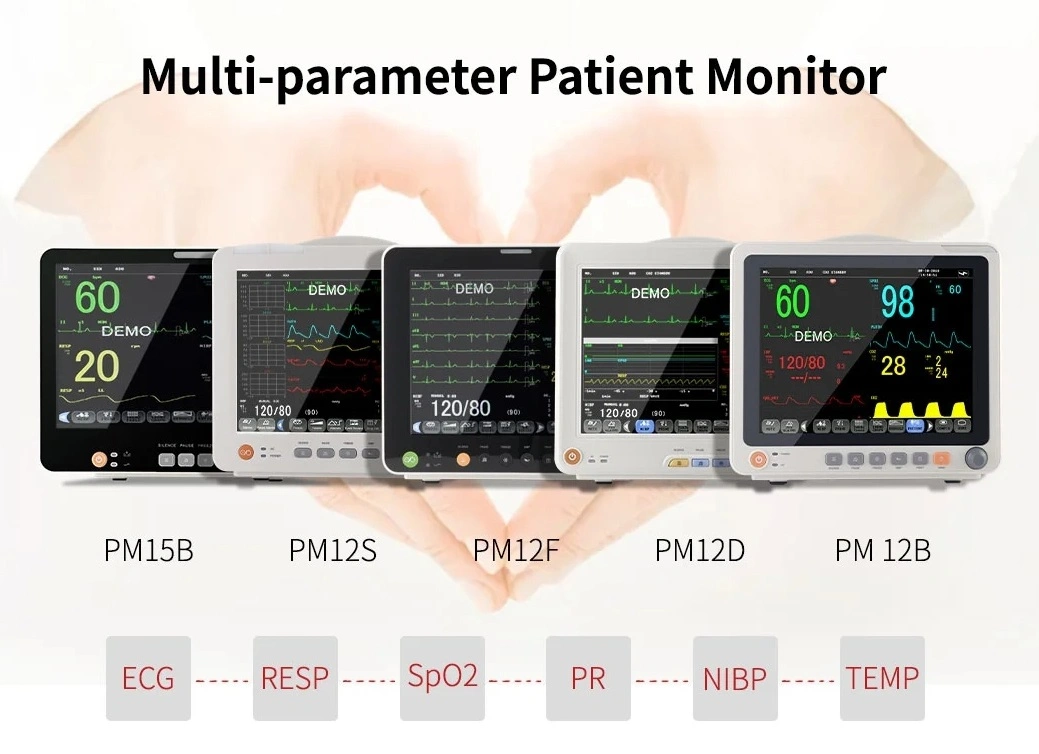 Introduction:
This equipment can monitor such parameters as ECG, RESP, SpO2, NIBP, and Dual- channel TEMP. It integrates parameter measuring module, display and recorder in one device to form a compact andportable device. At the same time, its built-in replaceable battery provides convenience for patient moving.

Features:
* Elegant appearance, clear marks, standard interface, oxyCRG SCREEN, trend graph, big characters, other BED observation, which are convenient for user.
* Be applicable for adult, pediatric and neonatal.
* Standard parameters of ECG, RESP, NIBP, SpO2 and dual-channel TEMP. IBP, CO2, Built-in printer, curving handle, moving bracket and hanging bracket are optional.
* Operation interface with Chinese and English. Finish all operations by keys and knobs. (Optional languages: French, German, Italian, Dutch, Portuguese, Turkish, Spanish, Poland.)
* 12.1'' color TFT LCD with high-resolution displays patient parameter and waveform, and alarm,
bed NO, clock, state and other information provided by the monitor synchronously.
* Monitoring contents, scan speed, volume and output contents can be set optionally.
* Storage of 480-hour trend data, and review of 40-second holographic waveform.
* Storage and review of 72-hour ECG waveform.
* Function of NIBP review, storage for up to 2400 NIBP data.
* Adopt digital SpO2 technology, which has strong anti-interference and anti-weak filling capability.
* Calculation of drug concentration.
* Network: connecting with central station, other Bed observation and software updating. Connection mode: wireless and wired.
* Built-in rechargeable battery for uninterrupted monitoring.
* Anti-high frequency surgical unit, defibrillation-proof(requirement for special leads).
* Analysis function for heart rate variability(HRV) (optional)
Performance:
ECG

Lead Mode 3-lead and 5-lead are optional
Lead Selection I, II, III, avR, avL, avF, V
Wave 5-lead: 2 channels
3-lead: 1channel
Gain ×2.5mm/mV, ×5.0mm/mV, ×10mm/mV, ×20mm/mV
HR Measuring and Alarm Range
Range 15 ~ 300 bpm
Accuracy ±1% or ±1bpm, which is greater
Alarm Accuracy ±2bpm
Resolution 1 bpm

CMRR

Monitor ≥ 100 dB
Surgery ≥ 100 dB
Diagnosis ≥ 60 dB

Bandwidth

Surgery 1 ~ 20 Hz(+0.4dB,-3dB)
Monitor 0.5 ~ 40 Hz(+0.4dB,-3dB)
Diagnosis 0.05~75Hz(+0.4dB,-3dB); 76Hz~150Hz(+0.4dB,-4.5dB)
Calibration Signal 1 mV (Vp-p), ±5% Accuracy

ST Segment Monitoring

Measuring and Alarm Range -0.6 mV~ + 0.8 mV

ARR

ARR Detecting Type ASYSTOLE, VFIB/VTAC, COUPLET, BIGEMINY,
TRIGEMINY,R ON T, VT>2, PVC, TACHY, BRADY, MISSED BEATS,
PNP, PNC

Alarm

Available

Review

Available

Scan Speed for ECG

Waveform is adjustable

12.5mm/s accuracy ±10%
25mm/s accuracy±10%
50mm/s accuracy±10%

Respiration

Method R-F(RA-LL) Impedance
Differential Input Impedance >2.5 MΩ
Measuring Impedance Range 0.3~5.0Ω
Baseline Impedance Range 100Ω- 2500Ω
Bandwidth 0.3 ~ 2.5 Hz

Resp. Rate

Measuring and Alarm Range 0~120rpm
Resolution 1 rpm
Measuring Accuracy ±2 rpm
Alarm Accuracy ±3rpm
Apnea Alarm 10 ~ 40 S

NIBP

Method Oscillometry
Mode Manual, Auto, continuous
Measuring Interval in AUTO Mode 1 /2 /3 /4 /5/ 10/ 15/ 30 /60 /
90/120/240/480/960 Min
Measuring Period in Continuous Mode 5 Min
Measuring and Alarm Range 10~270mmHg
Alarm Type SYS, DIA, MEAN

Resolution

Pressure 1mmHg
Cuff Pressure ±3 mmHg
Accuracy ±10% or ±8mmHg, which is greater
Over-pressure Protection:
Adult Mode 315±10 mmHg
Pediatric Mode 265±10 mmHg
Neonatal Mode 155±10 mmHg

SpO2

Measuring Range 0 ~ 100 %
Alarm Range 0 ~ 100 %
Resolution 1 %
Accuracy 70% ~ 100% ±2%
0% ~ 69% unspecified

Pulse Rate(PR)

Measuring and Alarm Range 0~250bpm
Resolution 1bpm
Measuring Accuracy ±2bpm or ±2%, which is greater
Alarm Accuracy ±2bpm

TEMP

Channel dual-channel
Measuring and Alarm Range 0 ~ 50°C
Resolution 0.1°C
Accuracy ±0.1°C
Actualization Interval about 1 Sec.\
verage Time Constant < 10 Sec.
Alarm responding Time ≤2min

EtCO2

Method Sidestream or Mainstream
Measuring Range for CO2 0~150mmHg
Resolution for CO2:
0.1 mm Hg 0 to 69 mm Hg
0.25 mm Hg 70 to 150 mm Hg
Accuracy for CO2: 0 - 40 mm Hg ±2 mm Hg
41 - 70 mm Hg ±5%
71 - 100 mm Hg ±8%
101 - 150 mm Hg ±10%
Respiration Rate>80BPM ±12%
AwRR Range 2~150 rpm
AwRR Accuracy ±1BPM
Apnea Alarm Available

IBP

Channel dual-channel

Label ART, PA, CVP, RAP, LAP, ICP, P1, P2

Measuring and Alarm Range -50~350 mm Hg
Resolution 1 mm Hg

Accuracy ±2% or 1mm Hg, which is greater
Physical Characteristic:
Dimension 310×140×263(mm)
Net weight 3.8Kg
Accessories:
1) Adult SpO2 probe(5-pin)
2) Adult NIBP cuff
3) Extending tube for blood pressure
4) ECG lead
5) ECG electrode
6) Temperature probe
7) Power cord
8) Thermal recording paper(optional)
9) User Manual