New Type 12.1inch six parameter Multi-parameter monitor FM9000A
Feature
1. Brand-new model design, combines Chinese classical elegance and European style.
2. Modularized and one-piece design,strong anti-interference capability, more stable functions,consumes less power.
3.
High brightness and resolution 12.1-inch colorful TFT LCD display.
4.
Built-in battery,standby time to 120 minus,AC/DC power conversion.
5.
Unique Battery charge detection,displayable battery level.
6.
Unique real person voice alarm,sound, light and word alarm,three-level intelligent alarm
7.
Applying
"
15-350BP"wide-range heart rate measurement design according to features of newborns.
8.
Applying
"
Double Overvoltage protection
"
to ensure the safety, consistency and accuracy under all conditions.
9
.
Blood pressure with new anti-movement,low perfusion measurement technology in order to guarantee the newborn measurement accuracy
10.
Chinese, English, French, Russian, Portuguese, Turkish and other languages
11. Personalized operation system
,
concise and straightforward
12.
Various interfaces:
A single guide, standard, large font, all leads to satisfy clinical needs
13.
All leads, seven-channel synchronous ECG display
14.
More powerful anti-movement capability in blood pressure measurement, more precise measurement towards low perfusion and shaking fingers.
15. Anti-movement-interference to minimize failures and adjustable for low or high pulse measurement.
16.
New improvements in UI operation of the monitor software with larger and clearer icons
17.
Monitor software with more shortcuts and "one-step" menu management, more straightforward.
18.
Operational parameter functions such as CO2 and IBP can be realized with plug and play.
19.
Different interface can be set in different clinical departments
20.
2000-piece trend and data storage,200-set alarm events available for printing
21.
Powerful analysis software function: pacemaker analysis,ST segment analysis, arrhythmia analysis, drug concentration level measurement, titrimeter to ensure quick access to all information for clinic decisions.
22.
Suitable for emergency room, operating room, PACU, ICU and CCU
23.
Used for adults, children, and newborns
24.
Standard of the Ethernet protocols, supports for wired or wireless connection, central monitoring system can be composed of up to 64 monitors with online upgrading software.
25.
Strong defibrillation protection, anti high frequency and muscle electricity for accurate measurement results.
26.
Strictly design and manufacture on the basis of CE standard for the basic safety, stability and durability.
27. Designing with a accessory box on the top of the machine, convenient for operation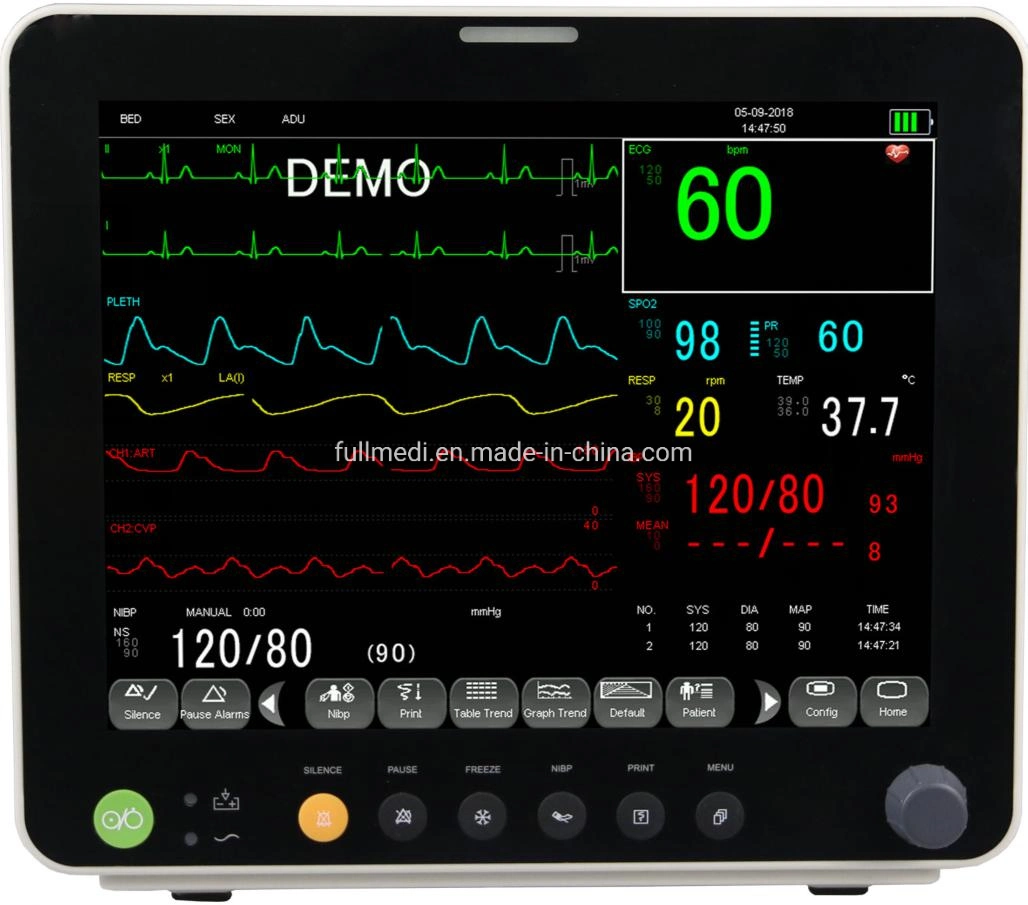 Function:
ECG
,
Heart rate,
o
xygen saturation
,
NIBP
,
TEMP
,
RESP
Standard configuration
multi parameter patient monitor×1 set
standard 5-leads ECG conductance joint connecting cables×1 set
standard adult blood pressure cuffs×1 set
adult SPO2 probe×1 set
TEMP probe×1 set
power plug line×1 set
grounding wire×1 set
English operation manual×1 set
three certificates×1 set.
Technical parameters
ECG
Lead mode;I,II,III,AVR,AVL,AVF,V1-6
Gain: ×0.25, × 0. 5, and × 1, × 2
Frequency: 0.5 Hz - 100 Hz
Common-mode signal inhibition: More than 70 dB
Scan rate: 12.5 mm / S, 25 mm / S, 50 mm / S standard three stalls.
HR: ± 5 BPM
Precision calibration signal: 1mv(peak, ± 3% accuracy)
ST Detection: measurement range (-2.0mV----+2.0mV)
Using Standard: meet the ANSI / AMI EC13 -2002 standard
Response time: 1s
Alarm: Sound and Light
Preset heart rate range: (Alarm over preset numerical)
Ceiling: 1-255 bpm adjustable
Threshold: 0-254 bpm adjustable
NIBP
Technology: Oscillography
Measurement method
:
more accurate with reverse measurement
Measurement units
:
mmHg/Kpa
Overvoltage protection
:
double safety protection
Measure time
:
less than 45S
Scope: Pressure Cuffs 0-250 mmHg
Measure accuracy
:
ANSI/AAMI SP10-2002 standard average accuracy and deviation
Inflatable cuffs: 180 mmHg (120mmHg for children
Inflatable cuffs follow: original SBP: + 30 mmHg
Measuring range:
SBP 60 mmHg~250 mmHg
Pmean 45 mmHg~235 mmHg
DBP 40 mmHg~220 mmHg
Measure accuracy
:
±1.1KPa(±8mmHg)±10%
Response time: 1s
Alarm: Sound and Light
Preset range: report (Numerical exceed preset alarm)
SBP maximum 1mmHg~255 mmHg
Threshold 0 mmHg~254 mmHg
DBP maximum 1mmHg~255 mmHg
Threshold 0 mmHg~254 mmHg
Alarm accuracy
:
±1 mmHg
Standard
:
ANSI/AAMI SP10-2002
SPO2
Range: 0-100%
Accuracy: 1%
Resolution: 1%
Pulse frequency: 20-250 times / min
Response time: 1s
Alarm: Sound and Light
Preset range: (report Alarm over preset numerical)
Ceiling: 1% - 100% adjustable
Threshold: 0% - 99% adjustable
TEMP
Technology: thermostat temperature probe
Measuring range: 20 ° C-45 ° C
Temperature resolution: 0.1%
Accuracy: ± 1 ° C
Response time: 1s
Alarm: Sound and Light
Preset range: report (numerical preset alarm over)
Maximum: 20.1 ° C-45.5 ° C adjustable
Threshold: 20 ° C-45.4 ° C Adjustable
Alarm accuracy:±1ºC
RESP
Breathing frequency range: 0-60 bum
Accuracy: ± 1rpm
Response time: 1s
Gains options: × 1, × 2, × 0.5, and × 0.25 four trenches
Alarm: Sound and Light
Ceiling: 10-100 bpm adjustable
Threshold: 0 -99 bpm adjustable
Alarm accuracy
:
±1rpm
Printer(Optional)
Specification
:
three-channel thermal recorder
System
Screen: 12.1 inches TFT screen of LCD
Battery: sealed maintenance-free lithium battery
Packing & Shipping
Packaging
The product was strong export package & suitable for deliver by air, express or sea
Shipping
1. Express: Ship
it
by UPS/ DHL/ FEDEX/ TXT express which is door to door, you just receive it at office (3~5 days)
2. Air: Ship it by air cargo which you need go to air port to take
it (2~7 days)
3. Sea: if goods are large quantity and you are not in hurry, we can ship
it by sea to save freigth cost (about one month)

Our Service
I: Quality
Our products are good quality and favorable price
II: Agent Service
Please contact me directly if you want to being our product agent
III: Quick Response
If you have any problem about the product,
we will response in 12hours by email, tel or fax.
IV: Training & Warranty service
We provide customers free product training in our factory.
We offer one year warranty & lifelong service.Some of products have two years warranty.
IIV: Extend Service
We provide the product spare parts for ten years.
FAQ
I. How to order?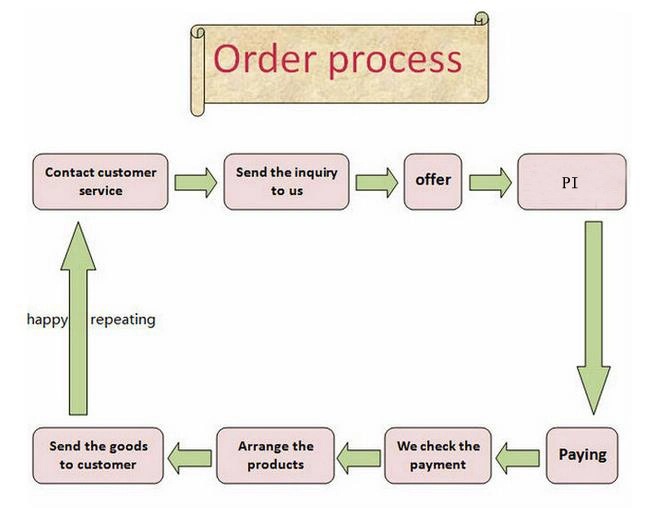 II. This is our first order, how can I trust your company?
We cooperate with Made-in-China & Alibaba which are all trustable company, so you can buy our products safely. All of our products are checked by the third party. Before we send out the items, we will check it carefully by ourselves.
Payment & Delivery
| | | |
| --- | --- | --- |
| Payment Methods | Commission Fee | Arriving Days after paying |
| TT | No Commission Fee | 3 to 5 workdays |
| West Union | No Commission Fee | Instant |
| Money Gram | No Commission Fee | Instant |
Delivery time
:
within 3 to 7 days upon receipt of payment
Company Information

Contact