Cheap Portable multipara Patient Monitor ETCO2/ECG patient monitor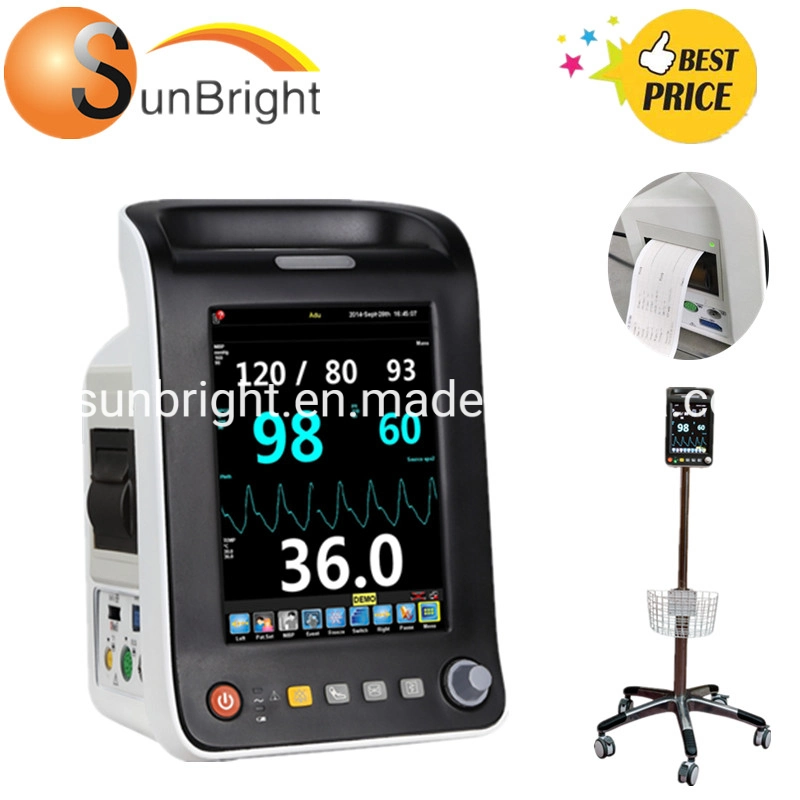 Introduction:
1. 8.4'' Color TFT Display
2.Apply for Patient Emergency Transport Theatre (Portable)
3.Configuring a continuous bedside monitoring with ECG
4.Could match ETCO2, NELLCOR/MASIMO oxygen saturation of blood, CMS, printer
5.wired/wireless, 3G/4G connection are optional
Features:
Sun-600P multi-parameter monitor can be used for monitoring of parameters of ECG, RESP, SPO2, dual-TEMP,NIBP, HR/PR. It integrates parameter measuring module, display and recorder in one device to form a compact and portable device. At the same time, its built-in replaceable battery provides convenience for patient moving.

Specifications:
Portable intergration monitor, applicable for adult, children and new born.

≥8 inches TFT display, color high resolution≥800*600

Display ECG wave, breath wave and pulse volume chart, English display, built in multi languages: Chinese, English, French, Russian, Polish, German, Tukish, Spanish, Portuguese, which could be chosen freely.

Standard configuration includes ECG, Breath, NIBP, Pulse Oximeter, PR and temperature.

Optional: In-built recorder, finalizing real time record, alarm touching off record.

Optional: 4-IBP, ETCO2, ag, bis, nmt and etc.

Optional: High strength Wall mount and trolley.

Optional: VGA port, supporting to connect with other monitor.

Optional: Nurse call port, finalizing alarm touching off nurse.

Optional: fast ear temperature and scanning gun, supporting 3g/4g network equipment.

Optional: wall mount+3g/4g network equipment.

Optional: outlay camera, transferring the patient's image, sound to central monitor.

Optional: Cloud service account, transferring the patient's data to central monitor.

Optional: Pylons of ambulance, fixing monitor to the ambulance.

Optional: Touch screen, supporting turning on/ off the touch screen.

Ecg support low impedance, the lowest could be 0.2 ohm.

Ecg support≥13 kinds of arrhythmia analysis, ST analysis,pace-making , pace-making analysis

Ecg has three monitor mode: monitor, diagnose and operate.

Ecg resist LEEP, protect defibrillator.

Spo2 adopts simulate SPO2 technology, resist sports disturb, weak perfusion could be 0.05%, compatible nellcor's probe, support pulse modulate tone.

Spo2 resist LEEP, protect defibrillator.

Spo2 display PI and PVI parameters.

Nibp adopts high accuracy NIBP measure device, temp. drift control technology, ensure the accuracy in all kinds of surroundings.

Nibp has three modes: manual, automatic and continuous.

Recorder supports wave record, at least record 3 waves simultaneously, at most record 7 waves simultaneously.

Recorder supports continuous record and preset time port record.

IBP wave could be displayed alone or mixed.

System function: support continuous survey and point survey. Point survey supports one time transfer after adding up.

System function: support rating users, which is to distinguish serious disease and common disease.

System function: Blood dyn calculate, Titration meter calculate, renal function calculate, ventilate calculate, Respiratory oxygenation calculate.

System function: Support night mode, which make the patient have a

good rest in night.

System function: Support to configure hard key through software.

System function: Support U disk upgrade though USB port.

System function: Support locking the monitor when it is not activated.

System function: has three grades of audible and visible alarm, alarm voice is adjustable, upper and lower lines of alarm parameters are adjustable.

System function: support module on/off. Every parameter has its own alarm limit, alarm switch and alarm grade.

Interface display: wave and parameters could be arranged by doctors.

Colors could be set at random. Wave and parameters could be changed left-right.

Interface display: Standard interface, large font display, Respiratory oxygenation graph display, short trend display and multi-lead display, five display total. Support module on/off.

Interface display: freeze function.

Interface display: display alarm limit.

Storage: 120 hours full monitor parameters data trends storage and recall.

Storage: 120 groups alarm events points up and recall, 24 hours holographic storage and recall. Supports storage off power.

Network function: support wire connections.

Network function: support wirless connections.

Host: support front and rear alarm lamp, increase alarm visible angle.

Host: DC/AC,rechargable battery. Continuous work time ≥120 minutes off power.

Host: support front shell full plane design. Public module has not this function.

Standard configuration:one host, one battery, one ECG cable, one SPO2

probe, one extended BP tube, one BP cuff, two temp. probes, one

power line, one packet of electrode, manual, certificate and guarantee card.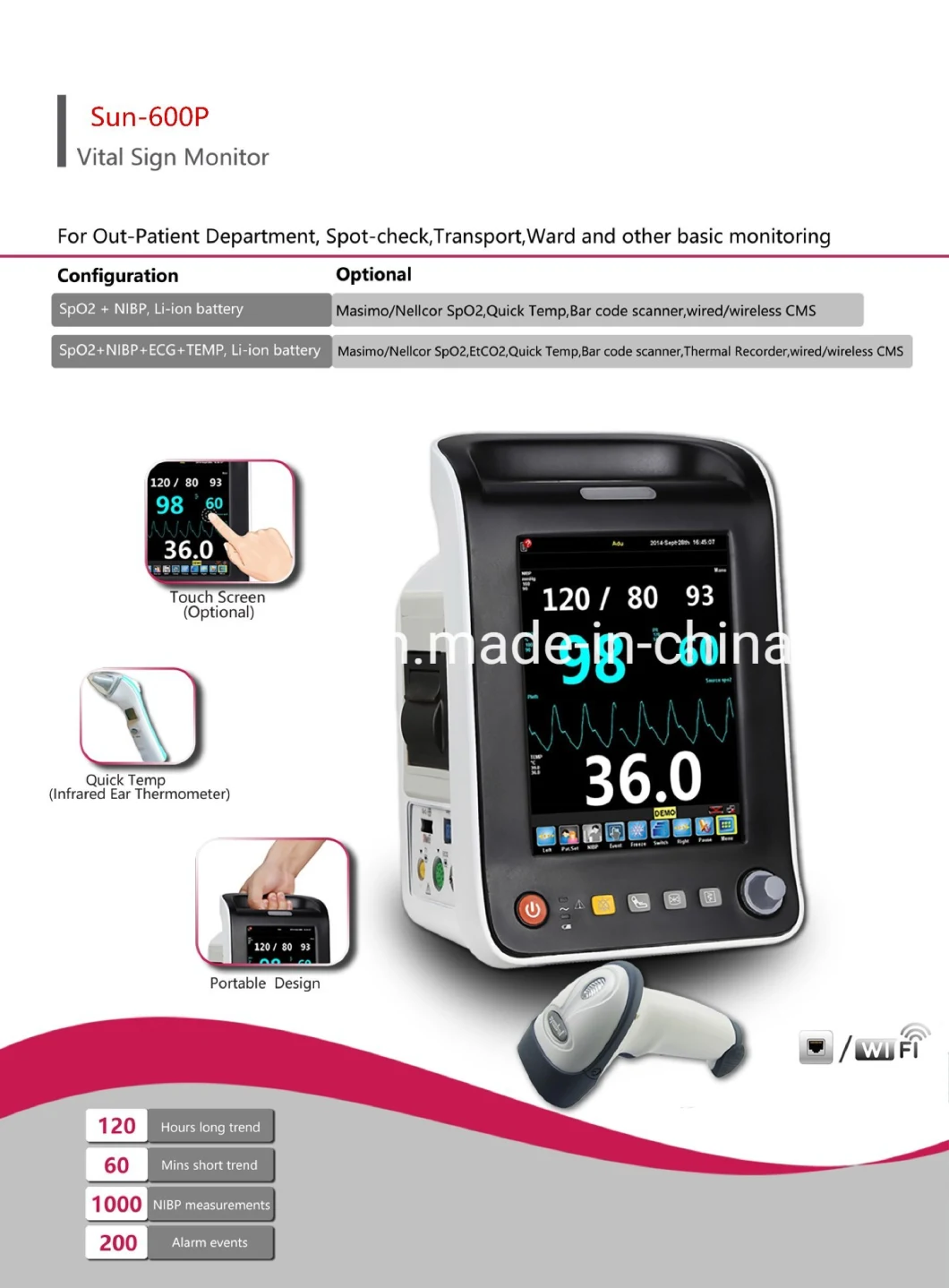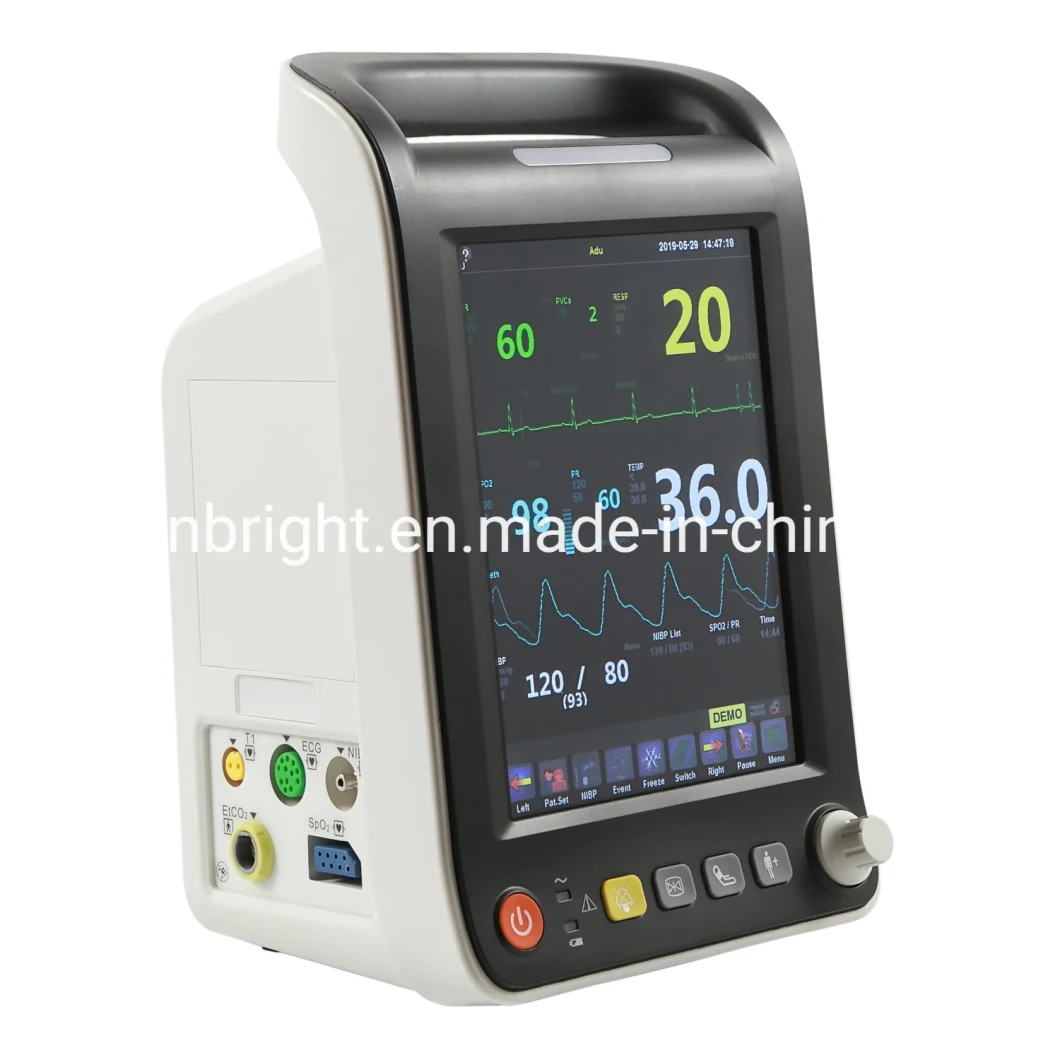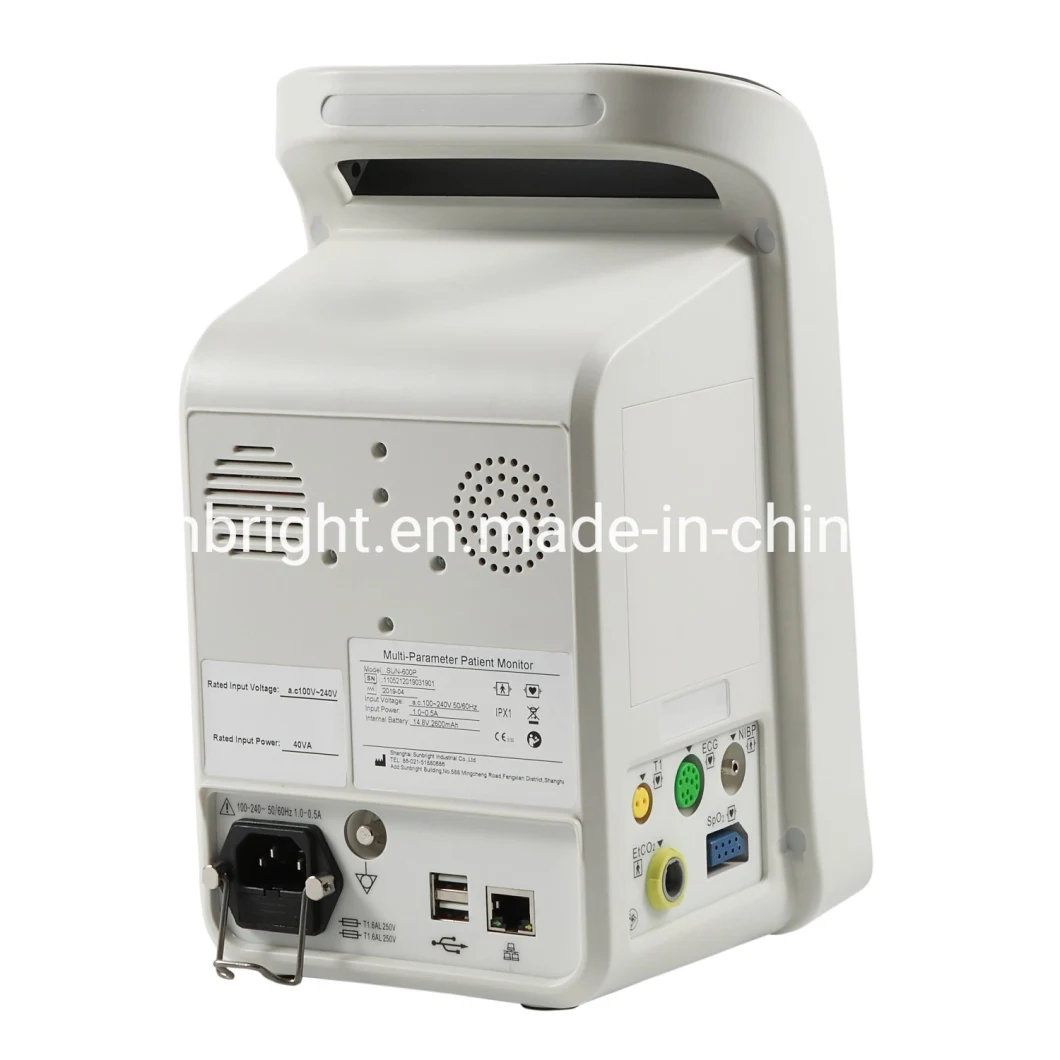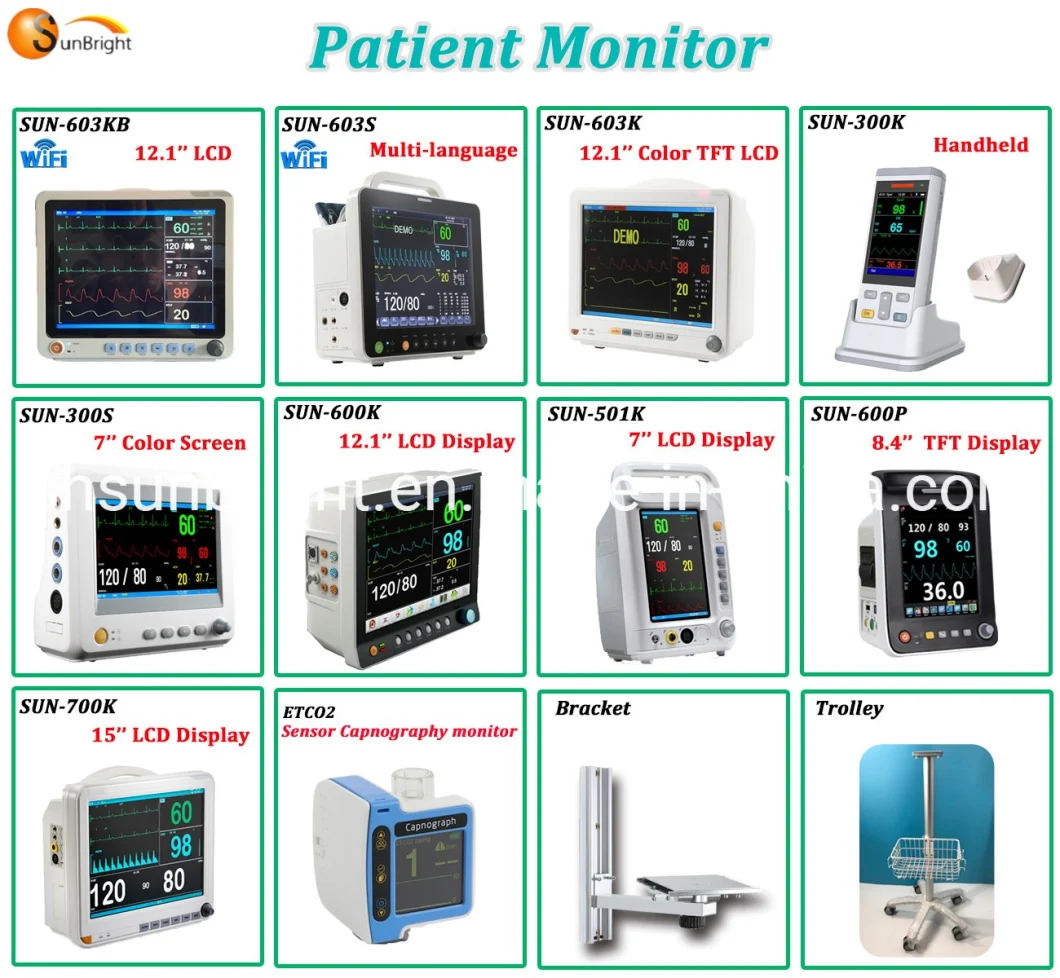 Packing and shipping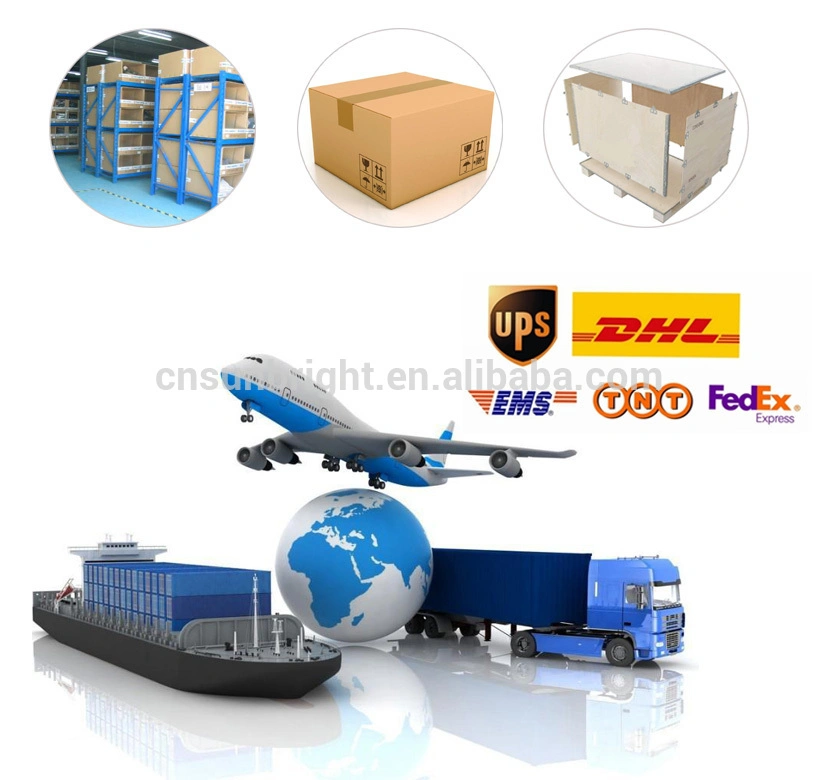 1. Package: double carton boxes
2. Port: Shenzhen China, Shanghai China
3. Delivery time: 3-5 working days after receipt of payment

Our Advantages:



Certificates: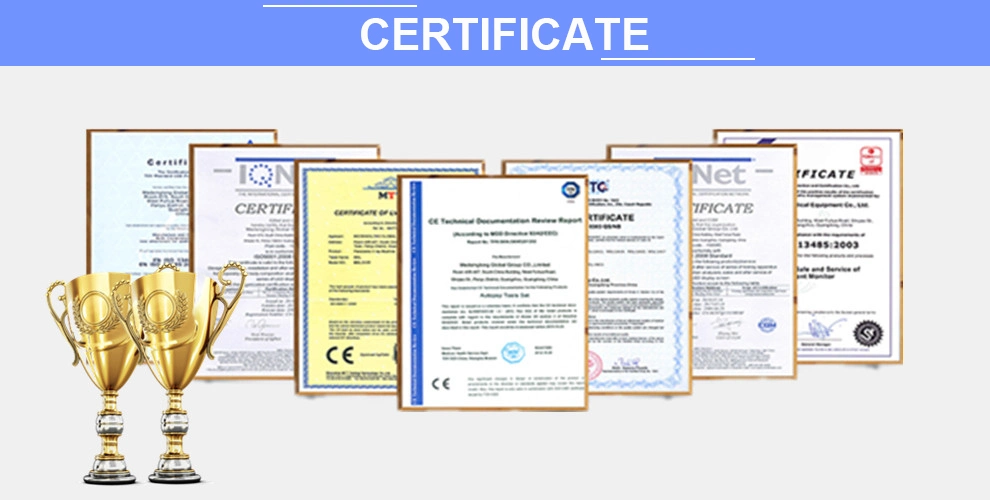 Payment terms
T/T in advance, MoneyGram, Trade Assurance, Western Union, Escrow, Paypal, Credit Card!




Company information:

Exhibitions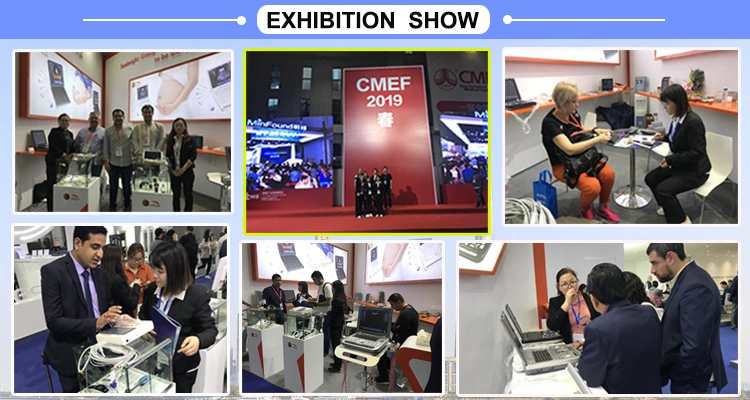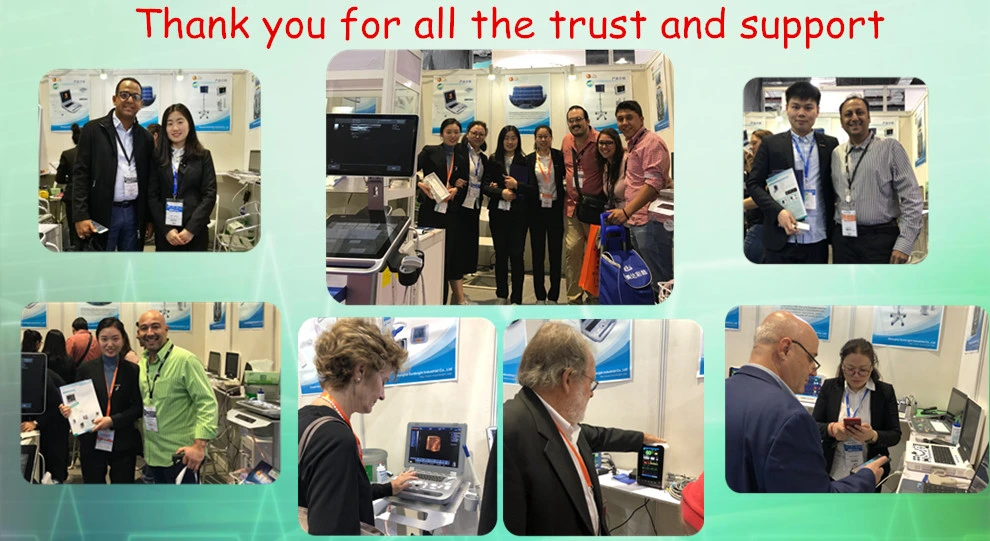 Welcome to contact us!