MS-8800 Multi-Parameter Patient Monitor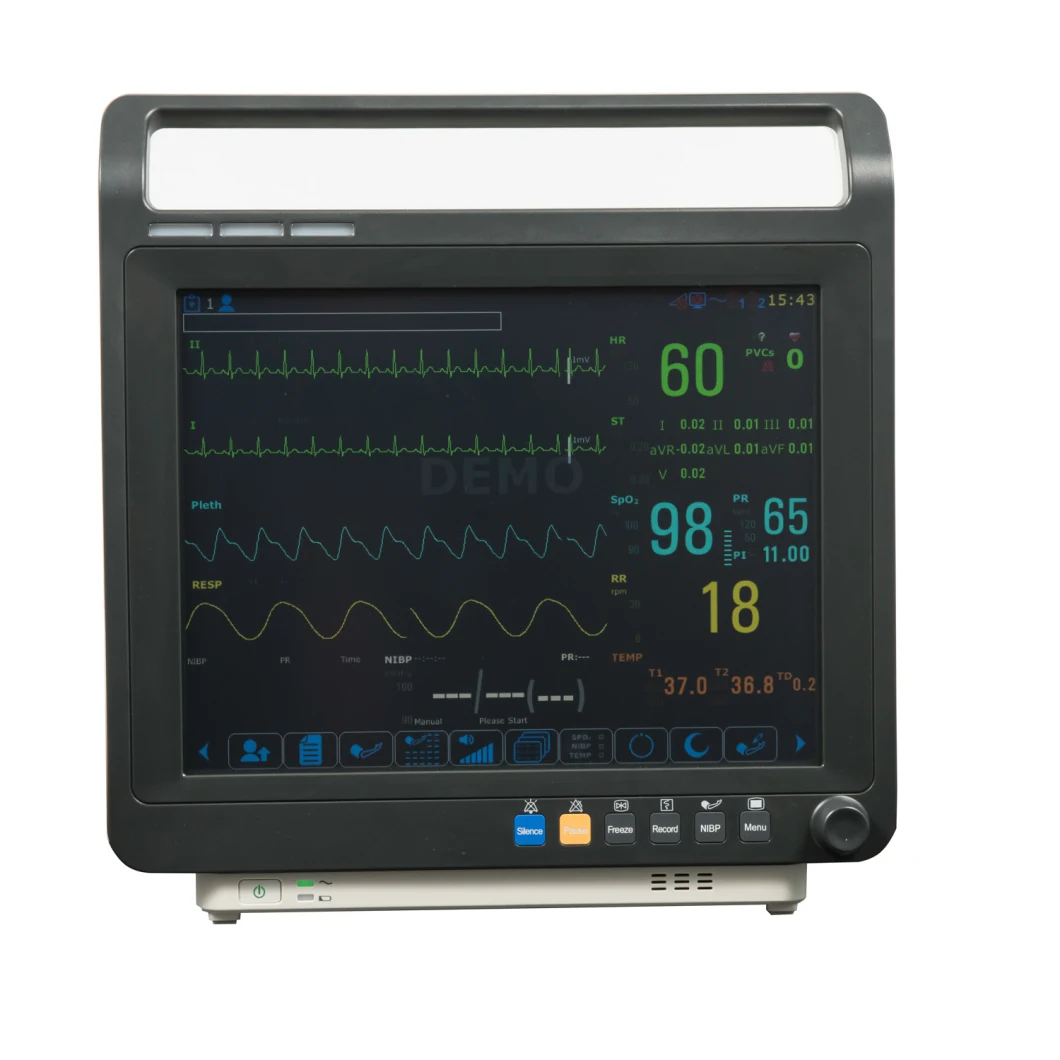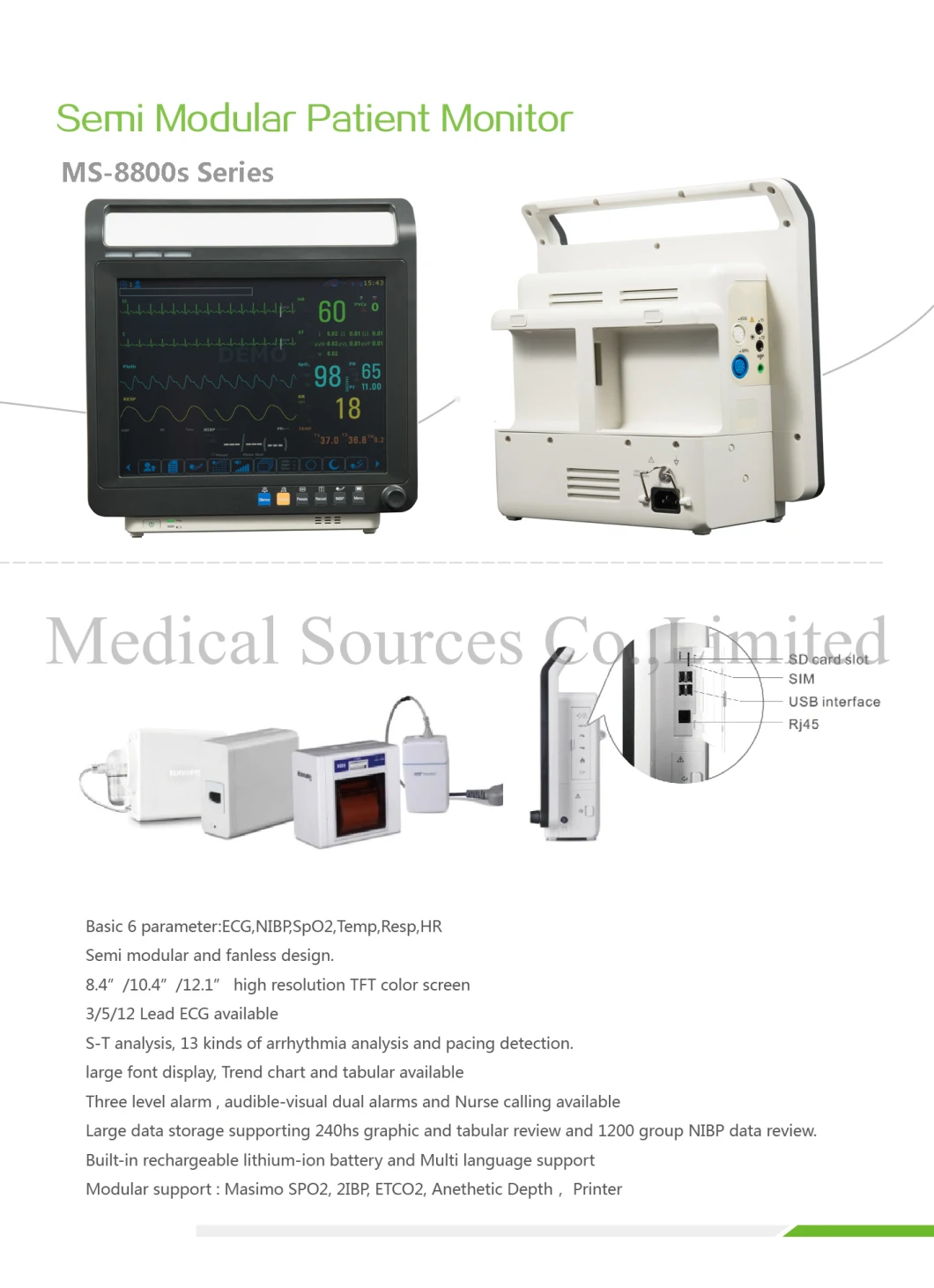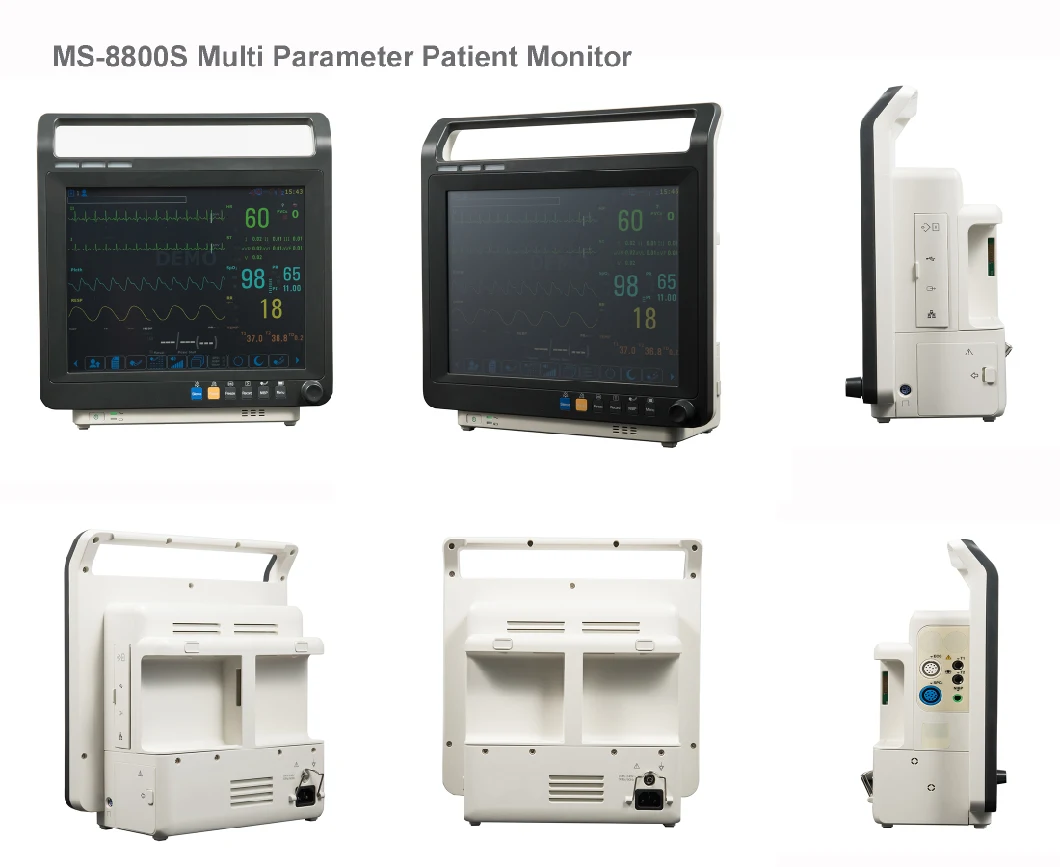 Character:
Thin
Thickness 8.8cm
Industrial Grade TFT Screen
Working life upon 50,000 hours
Excellent Performance
New Generation technology Accurate test parameter
Big Date Storage
1200 group patient date storage SD card extension avaliable
Reliable and Durable
High quality parts meet variable using enviromment
Waterproof button import from OMRON Company,Life upon1,000,000 times
Industrial Shuttle imported from Japanese ALPS company Life upon1,000,000 times
Powerfull Battery
Support 5 hours working time
Real time date exchange
WIFI, 3G support tele medical solution.
Basic 6 Parameter ECG, NIBP: SpO2, Temp, Resp.HR
Semi Modular and fanless design
8.4" / 10.4' / 12.1' High resolution TFT color screen
3/5/12 Lead ECG avaliable
S-T analysis, 13 Kinds of anhythmia analysis and pacing detection.
Large font display, Trend chart and tabular available
Three lecel alarm, audible-visual dual alarms and Nurse calling avaliable
Large date storage supoorting 240hs graphic and tabular review and 1200 group NIBP date review.
Built-in rechargeble lithium-ion battery and Multi language support
Modular support: Masimo SPO2, 2IBP, ETC02, Anethetic Depth, Printer
Parameters:
NIBP:
Method: Oscillometry
Modes: Manual/Auto/Comtinuous
Auto measure time:Adjustable
Measurement rang:10-270mmHg
ECG:
Lead mode:3-lead or 5-lead
Lead selection:I;II;III;avR;avL;avF;V
Heart rate range:Adult:15-300bpm;
Pediatric/Neonatal:15-300bpm
ECG waveform: 2 channals
Accuracy: ± 1 bpm or ±1%
S-T segment detection Measurement rang :-0.2mv~2.0mv
Alarm:Yes,audible and visual alarm,alarm events review
High resolution 12.1"color TFT display
Light weight, compact and portable
ECG,APO2,NIBP,RESP,2-TEMP,PR
Optional:2-IBP,ETCO2,And thermal printer
Bulit-in rechargeable lithium battery
ECG waveforms of 7-leads display on the same screen
72-hours graphic and tabular trends of all parameters
72 alarm events of all parameters recall
32 seconds full-disclosure waveform review
500 NIBP measurement date can be storage and recall
Date and waveforms color be adjustable
Arrhythmia analysis and S-T segment analysis
Suitable for adult, pediatric and neonatal patient
SPO2
Measurement range:0-100%
Accyracy:70-100%, ±2% 0-69%,upspecified
Pulse rate
Range:20-254bpm
Accuracy: ±3bpm
Respiration
Method:RA-LL impedance
Range:Adult:0-120rpm;pediatric/neonatal:0-150rpm
Apnca alarmYes
Temperature
Range:0-50
ºC
Accuracy: 0.1
ºC
Channal:Dual-Channal
Optional function:
Touch Screen / WIFI / GPRS / 5AH Lithium Battery,
12 leads ECG / 2IBP / ETCO2 / Central Monitoring System