Factory price Cheap 6 Multi-parameters Patient Monitor/12 inch Patient Monitor Price
(MSLMP15)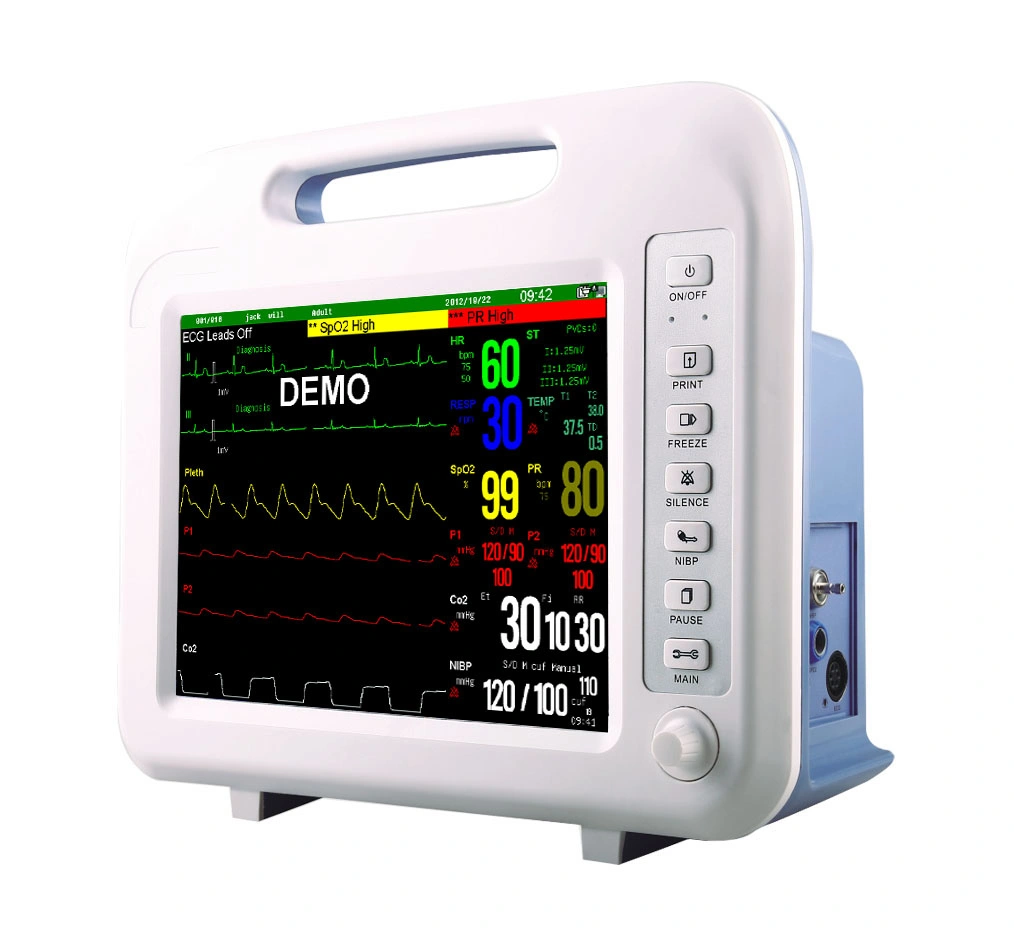 Product
descriptions
Function of MSLMP15 Patient Monitor
1.Display: 12.1" color TFT screen, high resolution: 800×600 dpi;
2.3/6 Parameters: Standard - 5-lead ECG/HR, NIBP, SPO2, Temp., Resp., PR;
Optional - 3/12-lead ECG, single/double IBP, double Temp.,
Sun Tech NIBP, Masimo/Nellcor Spo2, ETCO2,BIS,CO;
3.Patient Range: Suitable for Adult, Pediatric, Neonate;
4.Multi-display interface: Standard, Large font, Trend Coexist, OxyCRG dynamic,
7 full ECG waveforms;
5.Language: Built-in 8 language for choose (English, Chinese, Turkish, Spanish,
French, Russian, German, Italian)
6.Review: Maximum 720h tabular and graphic trends of all parameters, 1000NIBP
records and 200 alarm event;
7.Battery: Built-in 2 hours rechargeable lithium battery, and battery volume display. 4 hours rechargeable lithium battery (optional);
8.Network: TCP/IP networking platform, connect with central monitoring system.
Wifi central monitoring system (optional).

Feature of MSLMP15 Patient Monitor
1.Advance patient Manage: gender, full name, ID no., room no., bed no., weight, height, blood type, paced or not, remakes;
2.Multi-parameter board: Separated parameter board, main board, ECG board, SPO2 board, and NIBP board are independent;
3.Interface: Color, layout of each parameters can be set up by user need, bed to bed view display(optional);
4.Fanless: Use special fanless cooling technology in the device to provide usersquiet environment;
5.Standby: Unique standby mode for energy saving and suspend monitoring;
6.Time delay: Time delay switch-off function to save data when monitor turn off suddenly;
7.Easy software update: Users can update monitor software by themselves;
8.Analysis: Real time S-T segment analysis, and 20 type arrhythmic analysis; SpO2 Pitch Tone Variation, Drug Dose Calculation and Hemodynamic Calculations;
9.Storage: external SD card slot enables memory extension(optional);
10.Data transfer: USB port to allow to transfer patient data to a PC (optional);
11.Special SINNOR F-6 Spo2 technology: which is as correct as Nellcor spo2 but cheaper than it(optional);
12.Resistance to interference : Efficient resistance to interference of defibrillator and HF knife
13.Other optional: Touch Screen, Printer, Wall amount, VGA connect
Specifications
Display
12.1"color TFT
Rolling and refreshing waveform display
Resolution: 800×600
Multi display selectable including:
Standard display
Large-font display
Trend coexist display
OxyCRG dynamic view display
7 full ECG waveforms display
Bed-to-bed view display(optional)
Trace
9 waveforms (7 ECG, 1 SPO2 and 1 RESP)
Sweep speed:6.25mm/s, 12.5mm/s,25mm/s,50mm/s
Indicator
Power/battery indicator light
QRS beep and alarm sound
Battery
Rechargeable lithium battery, 12v/4AH
Max.24 hour for charging, 2 hours for continue working
Trend
Parameter graphic and tabular trends:
5s/piece, 8 hours;
1min/piece,168 hours(24hour×7days)
5min/piece, 1000 hours.
Storage
NIBP: 1000 groups
Alarm: 200 groups
SD card external storage (optional)
Alarm
User-adjustable High, Medium and Low limits 3-level
Audible and visual alarm
Networking
Connected to central monitoring system
TCP/IP netting platform
Wifi connector (optional)
Recorder
Build-in, thermal array
Plethysmogram caveform:2 /3 channels
Record mode: manual, on alarm, time-defined
Recording width: 50mm
Printing speed: 50mm/s
Recording type
Frozen waveform record
NIBP recall record
Trend table record
Alarm record
Fixed -time record
Detail images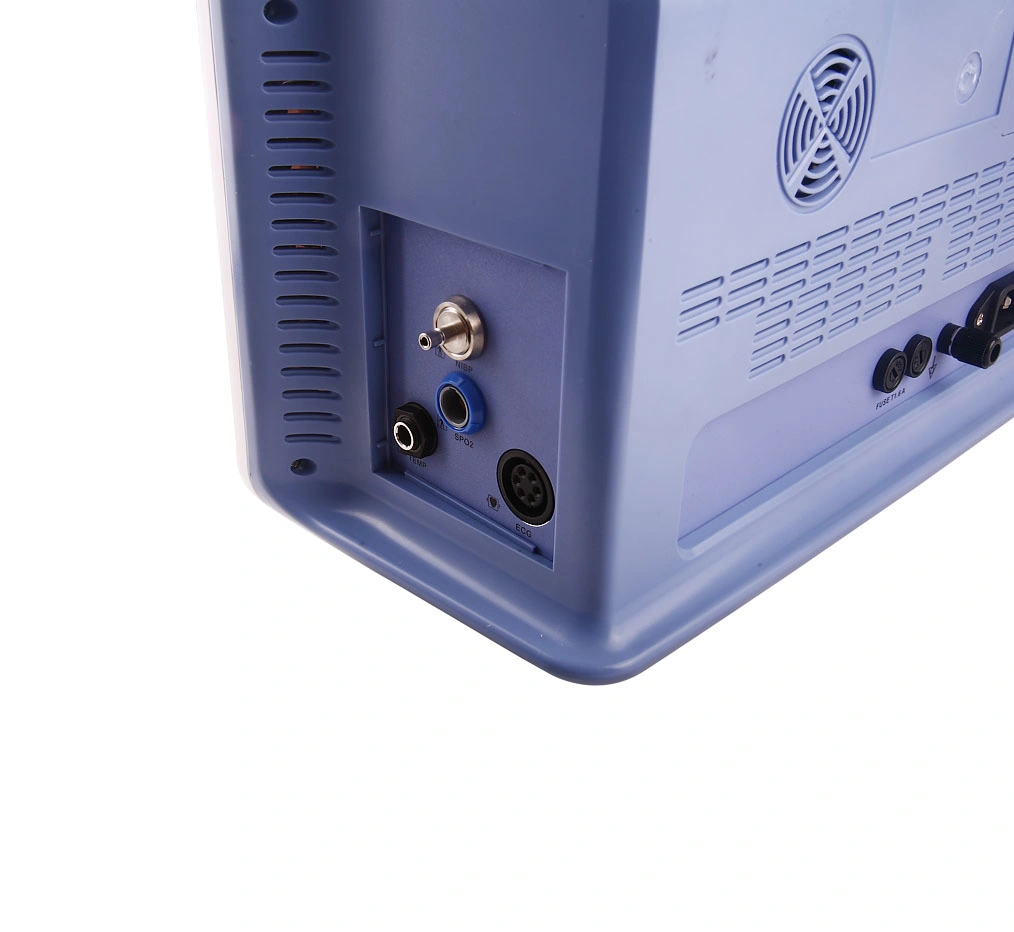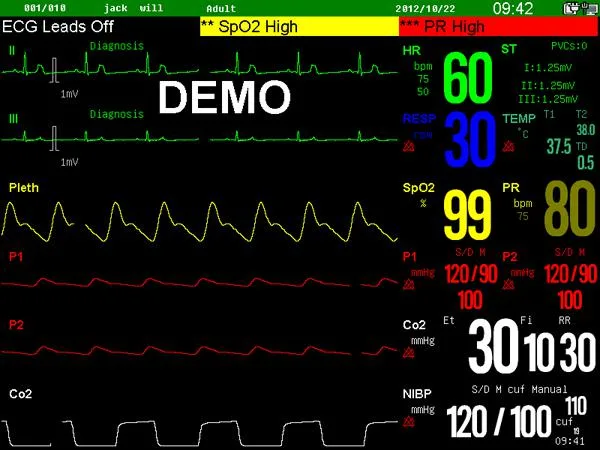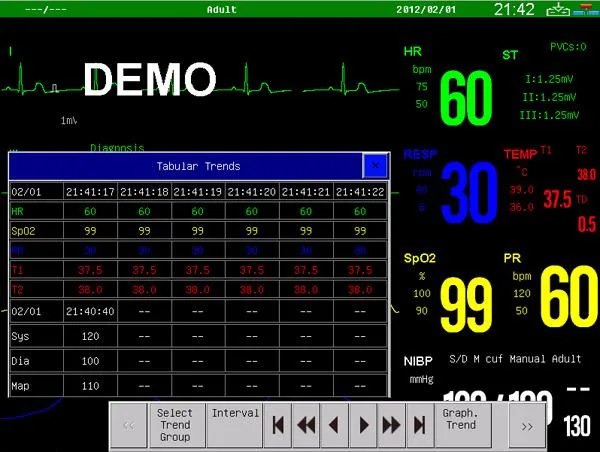 Company file
MEDSINGLONG GLOBAL GROUP CO., LTD (MSL) engages in selling medical equipments more than 10 years, such as Ultrasound machine,Xray machine,Blood analyzer,Biochemical analyzer,veterinary equipment,Radiation protection equipment and so on. We are Supplying all kinds of medical equipments in high quality with competitive price. Whether the hospital or clinic,or for personal use,you can find your own favorite products. Therefore, lowest cost of your medical devices with good service and high quality is our goal.No the best,only better!We are ready to serve you!

If you are interested in our products,please feel free to contact us!
We are going to provide you the best price and service!